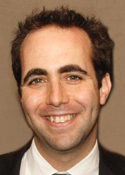 The Week, one of four magazines left in the ultra-competitive but ailing newsweekly category, has a few goals it wants to capitalize on during the recession. "We're still in growth mode," says general manager Steven Kotok.
The first goal concerns subscriptions, which account for half of the 500,000-circulation magazine's revenue. The Week increased its subscription revenue roughly 30 percent in 2008, and Kotok says there is room to grow at close to the same rate in 2009.
The magazine's success with holiday gift subscriptions this year gives him hope. Through mid-January, The Week received 135,000 gift subscription requests, up from about 100,000 the year before. "We're not really sure why this happened," says Kotok. "It could've been the election, or the economy—when you have less money to spend on a gift, maybe a subscription is better."
The next  goal concerns advertising. While The Week was flat in ad pages, Kotok thinks it has an opportunity to position itself for growth when advertising budgets come back by relying on what he says is the magazine's strength: ROI. "In fat times, advertisers can get in a glamour mode," says Kotok, who also points to independent research that ranks The Week #1 or #2 in engagement across the newsweekly category. "ROI seems much more important now."
Kotok says the opportunity to position the magazine is key in this recession. "In the past we've had to knock someone off a media plan in order to get in," says Kotok. "Now we can be ready when they come back."
One thing Kotok won't do is cut The Week's ad rates, which is a challenge. "We've been hearing a lot about publishers cutting rates," he says. "We don't have to make quarterly numbers so we haven't been forced to." But that also means walking away from ad dollars at a time when they are most scarce.
Which seems to be Kotok's approach to the recession: Don't change too much. "You do your business the way you always do," he says. "When the market comes back, you'll be more mature."
Where They Will Grow: Detroit, which grew 100 percent as an ad category for The Week in 2008, bucking industry trends.
Where They Will Save: No launches in 2010; the next global edition of The Week is in the planning stages and won't hit until 2010.
 
Quote: "You do your business the way you do your business—when the market comes back, you'll be more mature."
MAIN PAGE
Todd Matherne CEO | Renaissance Publishing
Toyin Awesu publisher and editor-in-chief | AvenueReport.com
Cameron Brown president | King Fish Media
Deborah Esayian co-president | Emmis Interactive
Efrem "Skip" Zimbalist CEO | Active Interest Media
Justin Smith president | The Atlantic
Len Burnett co-founder, co-CEO | Uptown
Risa Crandall VP | Scholastic Parents Media
Janet Libert editor and publisher | Executive Travel SkyGuide
Mike Domke founder and president | Milo Media
Jim Prevor CEO | Phoenix Media Network
Kent Brownridge general manager | OK!
Samir Arora CEO | Glam Media
John Sateja EVP | Consumer's Union
Jim Vick staff director/publisher | IEEE Spectrum
Pete May president | Greener World Media
Barb Newton president | Sunset Publishing
Paul Mackler | CEO | HMP Communications Holdings
Harry Sachinis | president | McGraw-Hill Business Information