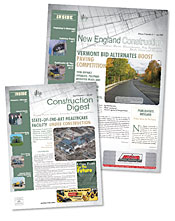 ACP Gets Second Chance
After Reed folded 13 construction titles, the group's original owner is making a play to bring them back.
by Matt Kinsman
In April, Reed Business Information shuttered all but one of the magazines published under its Associated Construction Publications Group, which consisted off 14 regional construction titles (Reed held onto Construction Bulletin).
That opened up an opportunity for John White, the original co-owner of the ACP titles (which were started by his ex-father-in-law), who continued to publish a newspaper for commercial construction in Indiana. "I called Reed and spoke with one of the VPs who was willing to see if there was interest in selling," White says. "I didn't need much for due diligence. It was basically, 'You can have what's here, you get what you get, do it quickly because we want it out of here.'"
The deal was done as a license agreement through the end of 2009, with White having the option to pick everything up in January. While he wouldn't reveal specifics, White says his group sold the titles for $21 million 15 years ago. "We didn't pay nearly that much this time," he adds. "This was good for Reed because it helped them cover a lot of their shutdown costs."
White is facing a new reality with the magazines. At the time he sold them, collective revenue for the 14 titles was around $19 million. With the 13 he has now, he's expecting about $5 million in 2010. "Give me six months and we can give a better answer on the potential," White says, adding that his smaller operation could see greater profits than it did under Reed. "When you're part of a larger corporation, there are many layers of overhead put on the magazines. We don't operate that way."
Ramping Back Up
Logistically, ACP faced a challenge in that much of the staff had disbanded and the postal permits were discontinued. "The biggest pain we have right now is trying to get them back to requester status," says White. "We've got the circulation list and have to get it re-validated."
White went to all people who worked with ACP recently, looking for good fits. ACP has 12 full-time employees, with nine former employees doing freelance edit and production work. The company also brought back editorial director Greg Sitek.
Re-Focusing on the Local Market
One priority is getting ACP back to its roots in local coverage. "Reed was focused more on national manufacturer sales because those were bigger dollars," says White. "They tried selling locally over the phone and eliminated the local sales presence. That had been the heart and soul of ACP magazines. We've tripled the sales team at the local level and we're getting very good response from our old customers but we've had people tell us that if we weren't going to make those commitments to local coverage we'd be better off leaving the magazines to die."
So far ACP has attracted advertisers such as Volvo and LBX. "Many of these advertisers had already re-allocated the 2009 budget for these magazines but when they saw what we were doing, they found a little more," says White. "It was their way of saying, 'We're glad you're back, here's what we can do to support you while you're ramping up.'"
In late July, ACP re-launched Construction Digest and New England Construction. By August it brought back six more titles, and, as of presstime, anticipates all 13 re-launching by September.
ACP is changing both the format and design of the magazines. Weekly and twice-per-month magazines will go monthly, and will grow to tabloid-size with larger, full color graphics. "When you're competing with digital media, my experience is that you've got to have something visually appealing as well as good editorial," White says. "Rather than have people toil through small print, if we can put better graphics/pictures along with well written stories, that will attract readers."
Once the print products are live, ACP will then turn its attention to ramping up Web and live events. "We partner with a lot of associations and other groups that do events," White says. "That's what they do well. If there are opportunities for us to get into events where we can sponsor or put them on, we have the capabilities to do it. I'm a huge believer that print is here to stay. We will invest in those e-media initiatives that make sense but very few of our readers are sitting at their desks online all day."
White offers some advice for the growing number of former publishing employees trying to take over their former properties. "The main thing is to focus on their core competencies—are they coming from a sales standpoint, editorial, etcetera," he says. "If they go out on their own, they won't have the same resources available. It's very important to find vendor partners like Publishers Press that will work with you."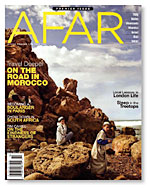 Afar Appeals to a New Type of Traveler
The brainchild of entrepreneur and experiential traveler attracts luxury advertisers.
by Vanessa Voltolina
During one fateful trip to India back in 2006, a new experiential travel title, Afar, was born. After selling the interest in his last successful business venture, former attorney and i-banker-turned-entrepreneur Greg Sullivan began traveling the globe. During one trip to India, he met Joe Diaz, who shared his interest in travel and identified what he thought was the lack of media voice for cultural explorers and experiential travelers.
"We wanted to build a brand around this concept—and we thought that the best way was with a magazine so that we could put voice, photos and stories with this kind of travel and create a feel. This way, we could grow to other mediums," says Sullivan, Afar's CEO (and co-founder with Diaz).
The San Francisco-based title  launched August 18 and is planning to print six times a year to start with a $4.99 cover price (and $19.95 for an annual subscription).
Capturing Luxury Ad Dollars
Before its launch, the New York Post gave Afar a four-star rating, ahead of established travel titles like Condé Nast Traveler (2 stars), BudgetTravel (2.5) and Travel + Leisure (2.5).  And while a good media review bodes well for a new magazine, it doesn't guarantee that ad dollars will follow.
That's why Sullivan established three tactics for culling ad dollars as a startup during this rough period for publishers. "First, we are capturing this emerging travel movement and trying to be a voice for this form of travel," he says. "Secondly, the company will start with a small niche market in the hopes of picking up early adopters who are passionate about this lifestyle. Third, we're doing something that no one else is."
In its premier 96-page issue, Afar had 35 advertisers, many of which were in the high-end and luxury markets. "We finished our marketing brochure in March when it was really bleak out there," says Sullivan. "Talking with potential advertisers about buying ads in a new magazine was a fairly ludicrous activity in many ways."
In spite of this, advertisers in the travel market "got it" with regard to the brand's positioning, Sullivan says, even though not all had the funds to commit, or believed that Afar could pull it off. "Unlike a mature media company, we didn't have value-add to promise advertisers. We just offered them brand partnership," he says. A surprising change of pace, he says, were some of the non-endemic advertisers that have bought in, including one South African street food vendor. "People are looking for authentic, meaningful travel, and many luxury brands were willing to say that they were confident enough in our brand to sign on," he adds.
Sullivan was able to fund Afar's launch completely out of pocket, with a financial commitment of $10 million. Its first two issues will have a rate base of 50,000, stepping up to 75,000 in January 2010, he says.
Brand Extensions
The experiential magazine hopes to grow its circ. to 250,000 over the next three years by targeting a high income demographic. "We started with direct mail in June," says Sullivan. "We plan to do some direct mail in December and in June 2010. We're building up circ. the old-fashioned way, and we hope that through future social media initiatives we'll drive people to the site."
Afar will be sold on newsstands, at Borders and Barnes & Noble bookstores, in Whole Foods Markets across the country, and in all major U.S. airports.
Plans for Afar in the first half of 2010 include a social media Web site that will capture an even larger demographic, connecting readers to a destination and helping with the travel experience; future initiatives will also include events, a natural line of business for this area. "We're talking about doing U.S. events and bringing in international vendors," says Sullivan. "Possibly some travel planning services, a TV partnership, and book publishing. It's also easy to foresee international editions and licensing for magazines in other countries, but we haven't gone down that road yet."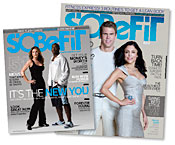 Health and Fitness Title Enters Flooded Category
SOBeFiT opts for content over "fluff," with plans for U.S. expansion.
by Vanessa Voltolina
Even in the most highly saturated markets there's room for one more publication. At least, that's what Marta Montenegro, publisher and editor-in-chief of Florida-based health, nutrition and fitness title, SOBeFiT, thinks.
Launched in December 2008, SOBeFiT bucks the typical content mix found in most health and fitness magazines, which, says Montenegro, "end up just being about beauty, with quick-hit content. I was tired of reading magazines with no substance, and wanted to offer content in the middle, between the quick hits and 'fluff' that most health and fitness magazines offer and an academic journal."
SOBeFiT also has a unisex brand (a rarity in this genre) which offers "more sophisticated content. It's not just about weight, but has enough substance that it requires readers to sit down and read it," she adds.
Montenegro, who has years of experience in the field—she's worked as a Washington correspondent, launched a newspaper in her home country of Venezuela, and opened a wellness center—says that she's always had a passion for sports.
This led to her brainstorm of SOBeFiT two years ago. The funding for MPG Publishing's only title—around $4 million total—came exclusively from investment holding firm ABA Partners. Started by Venezuelan entrepreneur Enrique Auvert and three other partners 20 years ago, the holding company has been investing in real estate media in both short and long term projects.
"Going in, I knew the magazine was going to be pricey," Montenegro said. The magazine has 15 contributing writers and 15 departments, as well as the different products like a collectible flash card binder to redeem the magazine.
"This business takes time; one of the most common mistakes for entrepreneurs is to expect returns overnight," Montenegro says. "We know that in this business, it will take about five or six years to break even," which is how long she anticipates the funding to last.
Event Incentives
It's one thing to concept a new title, but quite another to convince advertisers to sign up for yet another health and fitness print buy. SOBeFiT launched with only 5 percent advertising, in December, says Montenegro, but since then they have boosted the ad ratio to 15 percent for the current issue (its fifth).
While it has not lowered advertiser prices, the magazine is offering "certain discounts," namely with its signature events. "We are hitting a great audience [with these events] that advertisers can pass products to," Montenegro says. Advertisers also like the magazine's unisex aspect, she adds, and see it as "a way to get the most for their money." Montenegro was surprised to see big name advertisers, like Dove and Nivea sign on to SOBeFiT since it is still a regional publication.
Tapping Medical Markets
To build its audience, SOBeFiT has reached out to an alternative demographic including those in the medical field and at medical schools. Beginning with a modest 50,000 copies at launch, the publication has already grown to more than 65,000, with the intention of bypassing 100,000 by the beginning of 2010. Expansion plans include a New York edition as well as a third version, yet to be announced, at the beginning of 2010.
Reader feedback has been positive. Several events were launched at the same time—a 5K Run/Fitness Festival and Fittest Person of the Year contest (it won a 2009 Folio: FAME Award for best launch party). This year, SOBeFiT will be involved in upwards of 30 partner and solo-produced events.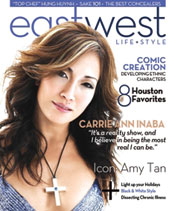 East West To Re-launch in October
Founder says magazine is at "20 percent of advertising goal" for the debut issue.
by Matt Kinsman
Multicultural magazine East West will relaunch as a bi-monthly on October 6. In April, founder Anita Malik announced her plan to bring the title back but was looking for an additional $150,000 to $200,000 in funding.
"Our goal has always been to go back to print," says Malik. "We had some private investors step forward and they believe in print as much as I do. Particularly with this niche market, print will remain viable. It's a scary thing but for us it felt right."
Making the Pitch To Readers, Advertisers
The relaunch will have a circulation of 20,000. East West archives remained online during the magazine's hiatus and Malik says readers continued to sign up. "We've been honest with readers and we're telling them 'we know you've been waiting' and trying to say we're human too with a small publication. People are kind of rooting for the magazine and when we were gone readers kept knocking on the door."
Malik says the content and mission will stay the same but she hopes to take advantage of online marketing, particularly through Twitter and Facebook. "We're really focusing on the marketing aspect, we never really had the funds for it (and don't really have it now) but we can benefit from social networking which wasn't as prominent as it was before."
East West is offering a cover design contest in which readers can develop the cover for the October issue. "We've typically done a glamour shot cover but Asian Americans are often very interested in design and we have a new blog focused on designers, so why not do something that gets readers involved?" Malik says.
The advertiser pitch is harder. "That's the tricky one," she says. "I've come to the understanding that it's going to take a while for them to feel secure again with who we are and that we're not going to put out just one issue and go away. We're seeking out new advertisers and a lot more companies are focused on multi-cultural marketing than a few years ago."
Malik says she is currently at 20 percent of the advertising goal for the October re-launch. "We've still got some time," she adds. "I'm looking at that coming back in 2010. We wanted to get two issues out this year to get advertisers comfortable so they'll be ready when January/February rolls around. We're being realistic that this will take a while and be hard. Our goal is to go monthly for 2011."
The title also must secure newsstand distribution again and will have a circulation model of subscription and newsstand as well as controlled in Los Angeles and Phoenix. "This will be a gradual buildup," she says. "We're starting over because we have to say, 'This is why you should carry us again.'"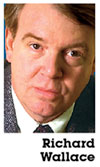 The Next Silicon Valley
Downsized from UBM, award-winning journalist Richard Wallace pursues his own Web startup.
by Matt Kinsman
When Richard Wallace was laid off from his position as vice president, editor-in-chief and director of global development at UBM's TechInsights in December 2008, he decided to pursue an idea he had kicked around for years. "I've been covering Silicon Valley since 1976 and in that time regional development centers have sprung up beyond outsourcing. The Next Silicon Valley is a metaphor for the next great wave of globalized technology development." 
The Next Silicon Valley started as a one-man show with a Web site and a Twitter strategy that filters posts from journalists all around the world. "We use Twitter as a news wire," says Wallace. "We may do 20 or 30 posts per day and spot stories for the current Web sites. If something is really interesting we'll send out an assignment at the local level. We're very keen on local reporting. It's not the cheapest way to do things but it's the best way. Online has a different value proposition than print. We can do some things that would be prohibitive in print."
The Next Silicon Valley is self-funded (another equity investor has since joined and will own a piece of the business) and Wallace estimates he spent $150,000 on research and development and he has an edit budget between $50,000 and $75,000. Drew Wilson, a veteran international correspondent who has written for Red Herring and EETimes Europe, has also joined The Next Silicon Valley.
Wallace plans to launch a new site in September and wants to start selling advertising as traffic ramps up. He expects to sell initially on a charter sponsor basis and transition as traffic increases into a page impression model. "We're expecting this to be a high traffic site and we know it will take a while to get there," Wallace says. "Next year we hope to be in expansion mode. The first thing is to recover the investment. Online, the margins are good and the costs are low. Most of our investment is going to editorial costs."
Wallace says the biggest step was making the commitment to move forward. "I'd thought of doing this for quite a while, and when I got laid off in December, that day I said I'm going to do it," he adds. "The learning curve was doing stuff for myself that I used to have other people do: building a mailing list, building a newsletter, doing some marketing, setting up a Web site. It was a question of getting everything organized and realizing there are a lot of people I can tap into. The upside of the current meltdown in the publishing business is that there's some wonderful talent out there that wasn't available before."