Sharon Rowlands
CEO | Penton Media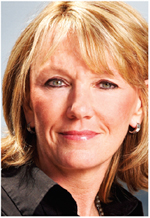 Our core asset is the data—both structured and textual—that our staff creates. Of course, we are platform neutral—our audiences want to consume information in multiple formats.  The key is to understand that different platforms serve different purposes. Research has shown us that typically the Web is approached by the user with a question or problem to be solved—they are focused on what they are looking for.  The magazine however has the capacity to prompt or highlight ideas that the audience doesn't know they are looking for.  
At Penton, our approach is driven by the audience—some markets are aggressively digital, such as technology, whereas others value the print (e.g. Supermarket News).  So it's not a one-size-fits-all approach.  
The business model is primarily marketing driven. Much of this is lead generation—booths at tradeshows and advertising and sponsorship in the magazines and Web. We are seeing a shift from traditional brand promotion to lead generation—the market is becoming more sophisticated and increasingly recognizes that a quality audience that is relevant and wants to connect with suppliers provides a better ROI than a broadcast mass approach.  
We are fortunate to also have a number of subscription-based businesses, especially on the data products front, and we are building those out into more workflow solutions for users—going beyond data to data and tools. This has led to the identification of many audience paid opportunities across both content and education which in turn reinforces our relevance to the market.
We have integrated our content operations with an emphasis on producing relevant content that our audiences care about, whatever the medium.  It's a bit of a cultural shift for the editorial staff but many are energized by the increased engagement with their audiences both in print and online. The investment is going to content management systems that help our editorial staff leverage content and react in real-time to audience needs (e.g. analytics in the editors' hands) and in online product development.
There is no rocket science to this, and it's not a new strategy to this industry, but it is an approach that takes strong execution and a commitment to putting the audience at the center of decision making around resource allocation in a company and having everyone tied to delighting that audience.
We are training our sales force to sell the right solution/package to the client, and for those that require multi-platform we have package pricing which then behind the scenes is allocated to product lines.  Increasingly, however, what we really care about is how is the brand  performing and looking at integrated P&L's.
We still derive a majority of our revenues from print, followed by events. The portion coming from online and data products is growing fast. As we look forward I'm sure the mix will change with electronic and events driving the lion's share.

06/30/2009