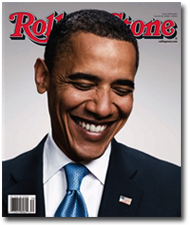 The cover of the July 10-24, 2008, issue of Rolling Stone featuring Barack Obama was named "Cover of the Year" in ASME's Best Cover Contest, David Willey, ASME president and editor-in-chief, Runner's World, announced today at the Magazine Innovation Summit in New York
City.
The cover, which won the "Best Obama" category before it was chosen as "Cover of the Year," depicts Barack Obama in Raleigh, NC, just a few days after receiving the Democratic Party's presidential nomination.
For the third annual competition, visitors to Amazon.com were prompted to vote on nominated covers in 10 categories, marking the first time in the four-year history of the contest that the winners
were determined by consumers rather than by ASME members. Magazine covers were eligible if they appeared in issues dated from June 1, 2008, through May 30, 2009. More than 100,000 votes were counted.
The nine other Best Cover Contest category winners, which were announced last month, are:
Entertainment & Celebrity: Vanity Fair
(January 2009 issue)
Sports & Fitness: Sports Illustrated
(December 12, 2008 issue)
Fashion & Beauty: Harper's Bazaar
(March 2009 issue)
House & Home: Veranda
(October 2008 issue)
Lifestyle: Condé Nast Traveler
(August 2008 issue)
News & Business: New York
(March 2, 2009 issue)

Science, Technology & Nature: Audubon
(August 2008 issue)
Most Delicious: Bon Appétit
(August 2008 issue)

Sexiest Cover: ELLE
(December 2008 issue)
Event Video: Content Creation Tips
Check out this related session at The Folio: Show, November 1-2 in NYC!
From bumpers to opening videos to shareable content, learn step-by-step how to work with video production experts to deliver engaging…