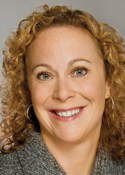 As publisher of one of the few consumer magazines to experience significant advertising growth in 2008, Scholastic Parent & Child's Risa Crandall sits in an enviable position—yet one not entirely different from other publishers staring down the barrel of a recession.
Despite the magazine's 28 percent ad page growth in 2008, "we're still looking to save," says Crandall. The difference is that unlike other magazines slashing costs and freezing others, Scholastic Parent & Child is reinvesting those savings in areas that advertisers and subscribers immediately notice.
For instance, Crandall says, the company was able to save 8 percent on printing costs, but turned around and reinvested in a heavier paper stock and matte finish—"something very obvious to advertisers," especially when a lot of magazines are reducing their paper quality to cut costs, Crandall says.
But it's important to be mindful of all costs, particularly in a recession. The magazine has become more resourceful, Crandall says, creating the bulk of its marketing pieces in-house.
Scholastic is also selling single-sponsored themes for both the magazine and Web site, where one advertiser can deliver their message loudly. Crandall says they are also developing an independent film project—which will have print and digital components.
Success in 2008 means Scholastic can experiment, probably a bit more than most publishers, in 2009. Crandall says the company is moving ahead with an advertiser-backed "Summer Challenge," a "huge initiative" that was put on hold in 2008. The company is also pulling the trigger on a large content and distribution partnership with Audubon, another project that was shelved last year.
In terms of goals for 2009, Crandall says she'd like to see advertising grow about 11 percent, increase the magazine's share in the parenting category ("it's really a share game right now") and move up in the eyes of advertisers in terms of new creative print offerings.
"We're in the top two and a half," says Crandall. "I think we can get to #1 by the end of the year."
Where They Will Grow: Print advertising (up 11 percent), helped by single-sponsored packages.

Where They Will Save: Production, printing and outside agencies, but will reinvest the savings in areas that are "obvious" to clients and the marketplace.
 
Quote: "It's critical how you present yourself during a recession."
MAIN PAGE
Todd Matherne CEO | Renaissance Publishing
Toyin Awesu publisher and editor-in-chief | AvenueReport.com
Cameron Brown president | King Fish Media
Deborah Esayian co-president | Emmis Interactive
Efrem "Skip" Zimbalist CEO | Active Interest Media
Justin Smith president | The Atlantic
Steven Kotok general manager | The Week
Len Burnett co-founder, co-CEO | Uptown
Janet Libert editor and publisher | Executive Travel SkyGuide
Mike Domke founder and president | Milo Media
Jim Prevor CEO | Phoenix Media Network
Kent Brownridge general manager | OK!
Samir Arora CEO | Glam Media
John Sateja EVP | Consumer's Union
Jim Vick staff director/publisher | IEEE Spectrum
Pete May president | Greener World Media
Barb Newton president | Sunset Publishing
Paul Mackler | CEO | HMP Communications Holdings
Harry Sachinis | president | McGraw-Hill Business Information