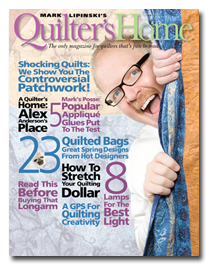 The latest issue of Quilter's Home magazine has been banned by Jo-Ann Fabrics for its "controversial" content.
The retailer refused to carry the March issue because of a feature—dubbed "Shocking Quilts"—that includes images of "fabric falluses," gun-toting Jesuses" and a "newborn peering out from his mother's lady parts." (Jo-Ann Fabrics sells about 7,000 copies of Quilter's Home per issue, according to the Washington Post.)
The magazine's editor, Mark Lipinski, spent $2,500 to polybag 45,000 copies because he knew the issue might be considered "scandalous."
None of the magazine's 35,000 subscribers have complained about the lurid quilting content, Lipinski told the paper. One person, though, criticized him for the polybags. "She thought that I should be more concerned about the environment."
Creating New Revenue with Content Marketing and Native Advertising
Check out this related session at The Folio: Show, November 1-2 in NYC!
If your business remains print centric, dependent on legacy formats like full-page print ads, then content marketing and native advertising…