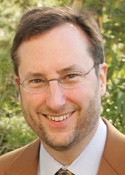 For Pete May, president of Greener World Media, working through a recession successfully depends on a focus on six principles.
First, he says, don't hire more staff, hire more freelance stars. "We've recently brought on people like Rob Watson, who was one of the founding creators of the successful standard for green buildings," May says. "Rob has a flourishing consulting business but loves being executive editor of our GreenerBuildings.com site. This gives him some income and a platform. We in turn leverage his star power for sponsor-based projects."
Second, for May, is to focus on free methods of Web traffic development. "It's not rocket science, and it takes time, but mining Digg, Twitter, Linked-In, Facebook and other social media can yield nice traffic gains for online sites," he says.
Third, May says, is to leverage your existing brands with new products. "We have an annual research report called State of Green Business," he says. "This year, we turned it into a one day conference, and next we will turn the panel discussions from it into a Webcast series. More work, sure, but much easier than launching a new product line."
Another concept that Greener World uses is to leverage event sponsors into free venues where possible. "We have PG&E, the local utility here in San Francisco, as host for our State of Green Business Forum," May says. "They have a 495-seat auditorium in San Francisco. Hosting our event there saves money, and adds credibility."
May also suggests widely diverging pricing models, depending on the product. "We now offer advertising options from $1,000 lead-gen options to six-figure major-branding packages," he says. "We offer different events for attendees from $149 one-day events to $1,999 for a three-day conference to $9,900 for an annual membership to our GreenBiz Executive Network."
And finally, he says, listen to customers. "Often you might hear, 'I don't have an ad or event budget, but I do need X,'" May adds. "Crafting a solution can bring new revenue and customer goodwill."
Where They Will Grow: Spin-off product lines, including live events and Webinars from research reports.
Where They Will Save: Use of freelancer stars rather than staff, and sponsor sites instead of paid venues where possible.
 
Quote: "We now offer advertising options from $1,000 lead-gen options to six-figure major-branding packages."
MAIN PAGE
Todd Matherne CEO | Renaissance Publishing
Toyin Awesu publisher and editor-in-chief | AvenueReport.com
Cameron Brown president | King Fish Media
Deborah Esayian co-president | Emmis Interactive
Efrem "Skip" Zimbalist CEO | Active Interest Media
Justin Smith president | The Atlantic
Steven Kotok general manager | The Week
Len Burnett co-founder, co-CEO | Uptown
Risa Crandall VP | Scholastic Parents Media
Janet Libert editor and publisher | Executive Travel SkyGuide
Mike Domke founder and president | Milo Media
Jim Prevor CEO | Phoenix Media Network
Kent Brownridge general manager | OK!
Samir Arora CEO | Glam Media
John Sateja EVP | Consumer's Union
Jim Vick staff director/publisher | IEEE Spectrum
Barb Newton president | Sunset Publishing
Paul Mackler | CEO | HMP Communications Holdings
Harry Sachinis | president | McGraw-Hill Business Information