Paul Mackler
CEO | HMP Communications Holdings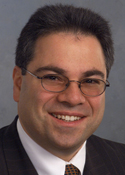 HMP Communications Holdings CEO Paul Mackler, whose company publishes medical media products and projects growth for 2009, relies on four strategic concepts when making decisions during a recession.
First, he says, there are certain things every CEO must focus on, including maintaining or capturing greater market share, implementing cost controls, taking steps to reduce expenses, revenue generation and cash management. Also vital are communicating to employees and investors. "Keeping the sales team motivated and contacting customers is critical," he says. "Once a salesperson has mentally thrown in the towel, you are doomed, so it is vital to communicate very regularly and understand what's going on in their world. CEOs will want to jump on problem sales situations faster with more decisive plans during tough times—you don't have the luxury of time."
A second principle is to understand that how a company operated before the recession will dictate some of the steps needed to sustain viability during the recession. For instance, a company with ideas in development that have no revenues or profits, but significant investment costs, will have to put those projects on the back burner, Mackler says. "Layoffs are extremely likely. Pet projects that do not deliver results could be deadly during bad times," he adds. "On the other hand, if a company was operating very efficiently, then layoffs may not be a viable option. In that case, asset sales and/or discontinuing marginal products might need to be seriously considered. Cash conservation is critical."
Third, get your CFO more involved so you fully understand revenue trends and forecasts, and can develop better financial contingency plans.
Fourth, company financing needs to be factored in. "How you're financed, what type of investors or partners you have, and what type of banking relationships you have—combined with your past and current performance—will make a big difference in how you manage through a recession," he says.
Mackler says he places a higher priority on communicating regularly with employees, especially during the bad times. "Use straight talk and language all employees can understand," he says. "Explain the situation including the steps you're taking to get through a very tough period and what your employees can expect. The message might not be pleasant, but employees have higher levels of anxiety when they do not know what to expect. Silence can be deafening. The higher the anxiety, the lower the productivity—and poor morale is usually a function of a lack of leadership."

Where They Will Grow: Sales efforts with close supervision and flexibility for salespeople.

Where They Will Save: Careful analysis of projects and products against their revenue performance and investment cost.
 
Quote: "Silence can be deafening. The higher the anxiety, the lower the productivity—and poor morale is usually a function of a lack of leadership."

MAIN PAGE
Todd Matherne CEO | Renaissance Publishing
Toyin Awesu publisher and editor-in-chief | AvenueReport.com
Cameron Brown president | King Fish Media
Deborah Esayian co-president | Emmis Interactive
Efrem "Skip" Zimbalist CEO | Active Interest Media
Justin Smith president | The Atlantic
Steven Kotok general manager | The Week
Len Burnett co-founder, co-CEO | Uptown
Risa Crandall VP | Scholastic Parents Media
Janet Libert editor and publisher | Executive Travel SkyGuide
Mike Domke founder and president | Milo Media
Jim Prevor CEO | Phoenix Media Network
Kent Brownridge general manager | OK!
Samir Arora CEO | Glam Media
John Sateja EVP | Consumer's Union
Jim Vick staff director/publisher | IEEE Spectrum
Pete May president | Greener World Media
Barb Newton president | Sunset Publishing
Harry Sachinis | president | McGraw-Hill Business Information

01/30/2009