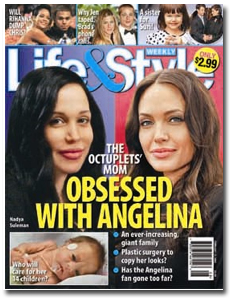 Bauer and Wenner Media titles are seeing high newsstand sales from an unlikely cover personality.
Nadya Suleman—the tabloid-sensation mom of octuplets (along with six other children)—is helping celebrity newsweeklies get back on their feet—even if only for one issue.
Celebrity titles took a beating during the second half last year—Bauer and Wenner's in particular. Bauer's In Touch dropped 32 percent in single copy sales, Life & Style down 31.3 percent and Wenner's Us Weekly 20.7 percent.
 
But MSNBC.com reports that sales of Life & Style went through the roof when the magazine put the "octo-mom" on the cover. Us Weekly also stands to up newsstand sales thanks to a photo exclusive with the "octo-mom."
A Bauer spokesperson declined to comment on the exact sales number, but said the company was "extremely pleased with this cover, and we not only met, but exceeded our rate base."
How to Create Your Most Detailed, Effective Attendee-Marketing Plan Ever
Check out this related session at The Folio: Show, November 1-2 in NYC!
Promoting your next event doesn't start 12 weeks out, or even six months out. It starts before this year is…