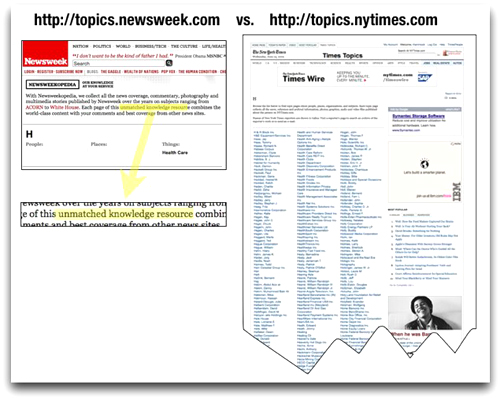 With its recent redesign (which I like), Newsweek.com
cloned one of the lesser known but truly incredible parts of the New
York Times Web site: an encyclopedia-like organization of its archives—including in most cases, an introductory overview—called "Topics,"
that can be found at the easy-to-remember URL, http://topics.nytimes.com. Newsweek calls its clone Newsweekopedia but uses the Times-like URL: http://topics.newsweek.com.
That's where all similarities end.
Newsweek broke rule #1 of building an encyclopedic resource—or anything that is "-opedia"-ish—they didn't seed it properly. In
fact, they barely seeded it at all. Compare, for example, the letter
"H" on http://topics.nytimes.com to the letter "H" on http://topics.newsweek.com. The image above doesn't do justice to the 1,000-plus entries on the Times site, but since Newsweekopedia has only one entry, I think you get the point.
Newsweek also broke cardinal rule #1 of anything you do on the Web:
Don't claim to be something that is drop-dead simple to disprove—like,
say, that you have an "unmatched knowledge resource."
My geek friends have a word for something like this: FAIL. (But please, keep trying.)
Creating New Revenue with Content Marketing and Native Advertising
Check out this related session at The Folio: Show, November 1-2 in NYC!
If your business remains print centric, dependent on legacy formats like full-page print ads, then content marketing and native advertising…