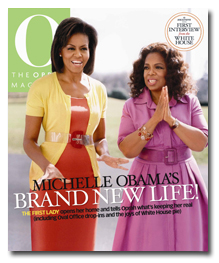 First lady Michelle Obama isn't helping magazine sales at the newsstand as much as originally thought.
AdAge recently reported that Newsweek's December 1, 2008 cover story on "The Meaning of Michelle" sold 90,000 copies on newsstands, 15 percent below its average for the second half of 2008. More's October issue with cover story "Michelle Obama at 44" sold just 154,000 copies on newsstands, 23 percent below the second-half average.
Exceptions to this rule were titles like Ebony, which sold 261,000 newsstand copies in September of 2008, up 26 percent from the six-month average. January's Essence, which split its print run between a cover featuring the president and a cover showing the first lady, also recorded sales up 458,000 from 250,922 copies in 2008.
Successful Strategy or Hype?
To date, O, The Oprah Magazine, is the only general interest magazine cover to see Michelle Obama's presence increase sales. So far, the issue, which hit newsstands on March 17, has seen sales up 25 percent. In 2008, single copy sales for Hearst's title fell 25.2 percent.
So what made O the only general interest title to reap the benefits? Maybe the sales boost had less to do with Obama, and more to do with the hype surrounding Oprah's first time cover share. As for Oprah's second planned cover share, we'll have to wait and see…
Social Media Marketing for Small and Mid-Sized Brands
Check out this related session at The Folio: Show, November 1-2 in NYC!
Attracting audience to your events, Webinars, awards programs and other initiatives is vital—it's a major responsibility for you as a…