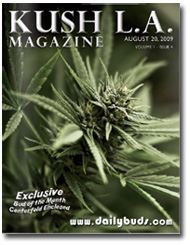 Kush L.A., a free monthly Southern California title that bills itself as the "Premiere Medical Marijuana Lifestyle Magazine," may have launched one of the most controversial—and, for some, most sought-after—magazine promotion to date.
The magazine has partnered with medial marijuana organization The Rainforest Collective to offer a coupon for free medical marijuana. Kush L.A.'s August issue will tout a coupon for the first 100 "new patients" of The Rainforest Collective to receive a free 1/8-ounce of medical marijuana. And, for those who miss out on being one of the first 100 people on the September 1 giveaway, the next 100 coupon holders will get with a free gram; subsequent new patients will be eligible to spin a "420" prize wheel to win marijuana cigarettes and edibles.
Certainly, the entire promotion is controversial. But it doesn't seem to bother Kush L.A. and Dailybuds.com publisher Michael Lerner. "At Kush L.A., we are excited to be promoting this new patient giveaway with The Rainforest Collective," he said in a release. "We have done similar promotions with our other great magazine and Web site advertising partners and look forward to our continued involvement in this movement."
Tools, Tactics and Technologies for Next-Gen Email Marketing
Check out this related session at The Folio: Show, November 1-2 in NYC!
It's the workhorse of your marketing efforts, and the linchpin of your data-management efforts. But there are important things you…