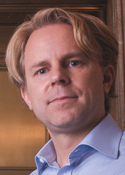 As part of a five-year plan to double revenue and post a double-digit profit margin, The Atlantic is investing heavily in personnel, digital and events.
In November, the magazine tapped Wired executive editor Bob Cohn as editorial director. It also picked up Ta-Nehisi Coates, a former staff editor at Time, who joins an increasingly formidable blogger lineup.
While print revenue was flat to slightly down for the first two months of the year, growth on the digital side (theatlantic.com draws between 2 million and 3 million unique visitors per month) brought total advertising revenue up 15 percent for the start of 2009. Digital could be responsible for a 10 percent shift in total revenue this year, according to president Justin Smith, who says The Atlantic is investing "several million dollars" into its Web business.
"Like a lot of publishers, we're creating digital environments that are relevant to advertisers," says Smith. On inauguration day, theatlantic.com let Audi take over all sponsorship areas on the site.
The second area The Atlantic expects to see growth from is events, which is a "large, seven-figure business." "For certain clients there seems to be a real resilience with those budgets," says Smith. "We're seeing growth in events even in the recession."
In 2009, The Atlantic is looking to make its events—including signature event the Aspen Ideas Festival—more integrated with its other media platforms. "Historically, sponsors of the Aspen Ideas Festival would have a custom program, whereas in 2009 we're offering the opportunity to have a creative presence in the 'Ideas Issue,'" says Smith. "Integrated opportunities can help you be more competitive in a down market. People have smaller budgets and aggressive goals. They're looking for value."
The Atlantic's State of the Union franchise—which includes a State of the Union gala and politically-themed January/February issue—is expanding to other topics, such as a State of the Union for healthcare that includes events, custom programs and print and digital tie-ins. "That's an example of how you can take an existing franchise and take it in a new direction to create more relevant advertising opportunities," says Smith.

Where They Will Grow: Digital and events could be responsible for a 10 percent shift in total revenue.
Where They Will Save: Basing new prodcuts on older ones.
 
Quote: "Marketers look at events as below-the-line marketing. It's almost one-to-one, face-to-face marketing. For certain clients, there seems to be a real resilience with those budgets."
MAIN PAGE
Todd Matherne CEO | Renaissance Publishing
Toyin Awesu publisher and editor-in-chief | AvenueReport.com
Cameron Brown president | King Fish Media
Deborah Esayian co-president | Emmis Interactive
Efrem "Skip" Zimbalist CEO | Active Interest Media
Steven Kotok general manager | The Week
Len Burnett co-founder, co-CEO | Uptown
Risa Crandall VP | Scholastic Parents Media
Janet Libert editor and publisher | Executive Travel SkyGuide
Mike Domke founder and president | Milo Media
Jim Prevor CEO | Phoenix Media Network
Kent Brownridge general manager | OK!
Samir Arora CEO | Glam Media
John Sateja EVP | Consumer's Union
Jim Vick staff director/publisher | IEEE Spectrum
Pete May president | Greener World Media
Barb Newton president | Sunset Publishing
Paul Mackler | CEO | HMP Communications Holdings
Harry Sachinis | president | McGraw-Hill Business Information