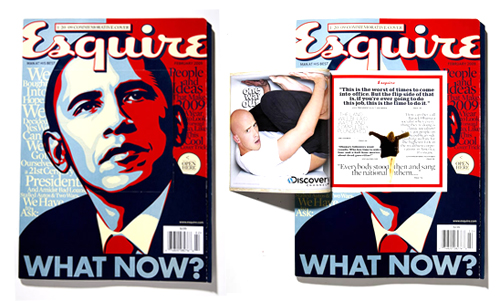 The February cover of Esquire, featuring—who else?—Barack Obama on its cover, caused a bit of a stir in hardlining church-state circles over a cover "window" that opens up to an ad for the Discovery Channel, as well as a mini-TOC.
Editor David Granger, who's become something of a serial envelope pusher (see: Esquire's e-ink cover, margin novella, etc.), claims it wasn't a gimmick cooked up by some outside the box sales executive at Hearst, but a pure editorial play.  "This was an editorial idea," he wrote in a post on the American Society of Magazine Editors blog.  "It's one of the several manufacturing gimmicks I presented to my publisher about a year and a half ago as things I would love to do if we could find a way to pay for them."
RELATED VIDEO: Granger's Keynote at the 2007 FOLIO: Show
Granger's reasons for pushing the envelope this time run deeper than his well-documented restlessness with his position as editor of a print magazine.
"I got sick of reading about the demise of print, which is the best, most rewarding medium ever, and I got sick of all forms of print being labeled 'old media,'" he wrote. "Yeah, print has been around for a long time, but that's because it works really well. Both aesthetically and as a business—which is more than one can say for most forms of 'new media.' So we've been trying to find ways to get people to reassess the print medium."
For its part, ASME said it did not violate any guidelines: "A clever and audacious use of print, yes; an attempt to disguise advertising as editorial or compromise editorial independence, no."
Read more here …
Everything You Need to Know About Programmatic
Check out this related session at The Folio: Show, November 1-2 in NYC!
Programmatic has become a juggernaut, driving Google's and Facebook's revenues to levels higher than the entire magazine industry. For many…