Going Back to the Well: How to Get More Funding
How Western Interiors & Design secured "several million" in new funding.
Recapitalization will determine the fate of many magazines in 2009, including those that were healthy through much of 2008. Green magazine Plenty shuttered last month, with publisher Mark Spellun saying that the magazine's financing had simply "dried up." Mediabistro reported that Evening Post Publishers Co. would stop publishing Garden & Gun as of January 31, while Garden & Gun publisher Rebecca Darwin said the magazine is "actively engaged in discussion with investors."
In 2007, Western Interiors & Design was the leader in ad page growth in a category that included heavyweights such as Architectural Digest and Elle DĂ©cor. But by late 2008, with the economy plunging toward recession and shelter and home magazines among the many categories feeling the brunt, the title knew it needed additional funding to weather the storm.
"It's not like we weren't able to make payroll. We didn't have to close anything or lay anyone off," says publisher Jennifer Matthews. "We've been streamlining and we've dropped our paper costs, although not the quality."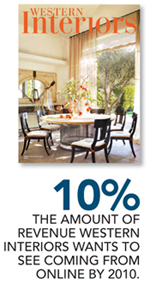 Sell or Invest?
Some savvy buyers were also circling Western Interiors & Design, thinking its investors might want to sell the magazine (which generates between $5 million and $10 million in annual revenue, according to Matthews) at a favorable price. "When it became clear that there were some offers to buy the magazine, the investors said, 'No, we believe in the magazine, we know it's going to pay off when we get through this dip in the economy and any sale price will be much higher,'" says Matthews.
Instead, Western Interiors has managed to convince its investors to put another "several million dollars" into the magazine. "They realize it's not the end of the magazine world, it's a dip in the economy and they need to help us through it," says Matthews. "We sat down with them and explained it. They knew we are going to have to be funded to withstand this year. We are going to prosper in the near future—they're not in this for sheer pleasure. These guys want to sell the magazine some day and they chose not to right now."

Where to Grow
Western Interiors is putting several initiatives into place to try to spark spending, including live events. The magazine last month hosted a VIP Lounge at the 2009 Sundance Film Festival and will host an "outdoor chic" rooftop event in New York City in May.
The magazine is also gearing up for its biggest issue of the year (April/May), featuring the Gold List, an annual list of interior designers, architects and landscape designers featured in throughout the year the magazine. In 2007, that issue was Western Interior's first to break 100 ad pages. In 2008, the issue slipped to 85 ad pages and this year Western Interiors is looking for ways to keep spending up. "This year we're going to put a little more muscle behind it by polling these designers and architects," says Matthews. "Consumers want to know what brands they are specifying and we'll publish those later in the year."
The magazine also introduced a "Power Buy" which offers price breaks to advertisers who commit to at least six ads per year.

Online, SIPs Will Carry More of the Load
Western Interiors will continue to invest in editorial, including a high level of photography. The magazine is also building out its Web site and will launch a new product this spring called Modern Dream Homes, the first in a planned series of high-end special-focused publications. "We hope that online will be at least 10 percent of the revenue by the end of 2010," says Matthews. "This additional funding will help cover the shortage of revenue from any lost ad pages during this touch economic time."

01/29/2009