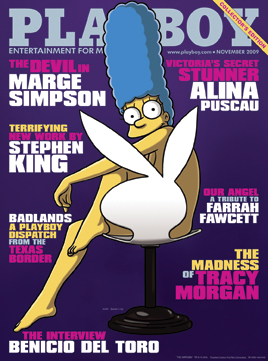 MAGSTATS
Issue: November 2009
Frequency: Monthly
Launched: December 1953
Circ: 2.6 million
Publishing Company: Playboy Enterprises, LLC
Editorial Director: Jim Jellinek
Art Director: Rob Wilson
It's likely you've seen—or at least heard about—Playboy's November cover featuring Marge Simpson.
The collector's edition cover, which featured a cartoon character for the first time in its history, hit newsstands October 16 in conjunction with the Gracie Films /20th Century Fox Television show's 20th anniversary.
"The Playboy team heard from the people over at FOX that in an upcoming Simpsons episode, 'The Devil Wears Nada,' Marge disrobes for a charity event," says Playboy editorial director Jim Jellinek.
This made it a "perfect opportunity" to showcase  Marge on the cover and create an incentive for people to go to the newsstand and pick up a copy. Jellinek and his team, along with Playboy founder Hugh Hefner, worked hand-in-hand with The Simpson's creator Matt Groenig, who "drew the cover by hand specifically for us," says Jellinek. "The entire process was nurtured by Hef using his knowledge and experience in illustration."
The final version of the newsstand cover was a take-off of Playboy's October 1971 issue featuring Darine Stern, the first African American model to appear on the magazine's cover. While subscribers received a cover with a similar look and feel to the Marge cover, their covers touted live model Alina Puscau. "Hef wanted it to look like Alina stepped out of one issue and Marge stepped in," Jellinek says.
While Marge may not be a lad mag virgin (Jellinek notes her appearance on Maxim's April 2004 cover), Playboy still considers her a newsstand win. "Online you can create something viral, but not the amount of orchestrated, tension-filled drama as with a cover reveal," Jellinek says. "I don't think there's been another magazine from a men's brand that has created this kind of buzz this year."

DESIGNER'S COMMENTS
"Full Disclosure: I am not a reader of Playboy, nor am I familiar with its covers in any but the most general, culturally iconic way. But this witty tribute featuring Marge almost entices me to look inside. The pose is sweetly tasteful, with the bunny chair providing modest cover while reminding us exactly where, and for whom, she's posing. The bright color palette is perfect, with the purple background reinforcing the context, and yellow and blue picking up her signature skin tone and hair. The typography also references cartoon culture, and more significantly, supermarket tabloids where cheesiness reigns. There is a slight whiff of late '60s poster type, making an otherwise heavy-handed, unsophisticated type perfect."
Joan Ferrell | Design Director | The American Lawyer, ALM


"On a purely visceral level I like this cover; I understand the homage it's paying to its 1971 predecessor, and I'm struck by the bold color palette. Do I LOVE it? No, not enough. The purple, silver, pink and yellows work because they are bold and surprising, accenting Marge's jaundice skin tone and hair (and will leap off of a newsstand). What would this cover have felt like if the palette were black, gold and mahogany to pay further homage to the 1971 cover? It's clear and legible, but I feel like there was a missed opportunity to be more playful. Rather than peppering the language around Marge, using her to partially obscure some of the type could have
given the cover depth and a more poster-like, finished feel."
Neil Jamieson | Deputy Design Director | People
Beyond Posts and Tweets: New Social Media Strategies (and Networks) That Engage Audiences Now
Check out this related session at The Folio: Show, November 1-2 in NYC!
Social media is accepted as a critical point of engagement for your brand. But the approaches and tactics have changed…