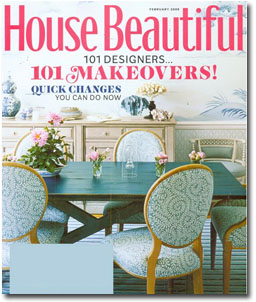 Another shelter magazine bit the dust yesterday as Condé Nast announced plans to pull the plug on Domino and dominomag.com.
Recently, other magazines in this category have met a similar fate, with Meredith closing Country Home earlier this month and Martha Stewart Living Omnimedia folding Blueprint at the beginning of last year.
The shelter category is suffering a pair of blows: the ill effects of the overall down economy, paired with the downfall of the housing market.
Despite all the turmoil, however, the shelter magazine category isn't going away, says Kate Kelly Smith, vice president and publisher of Hearst's House Beautiful. Launched in 1896, the magazine, she said, saw ad pages increase 8 percent in 2008. Newsstand sales were up, too, also increasing by 8 percent last year.
"Shelter magazines as a category aren't going away anytime soon," Smith told FOLIO: today. "But one thing is clear: The big trend over the past two decades was focusing your magazine on one style; they're great while they last, but they don't adapt to changes in taste or downturns in the economy."
Smith admits there aren't enough ad pages in the category to go around right now. "The only real pattern I see is business at its most basic: In a downturn, there's only room for the category leaders; the fringes fall away fast," she said. "And the more diversified your business is, the less you're about one thing, the better you'll weather the storm."
15 Fresh and Out-of-the-Box Sponsorship Ideas Guaranteed to Resonate With Buyers
Check out this related session at The Folio: Show, November 1-2 in NYC!
New ideas are the name of the game, the stronger the better. In this session we take you "beyond the…