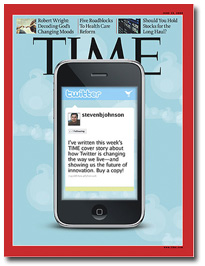 After a more than hour-long debate, six panelists were split between two candidates they thought should be named Time magazine's 2009 Person of the Year. Neither, for the record, were actually human beings.
Three panelists voted for Twitter. Three voted for the economy.
"Twitter affects a lot of people, but not as many as the economy," said former New York City mayor and debate panelist Rudy Giuliani. "From the wealthy to the poor who are out of jobs, the economy affects us all." Other panelists included Barbara Walters; cardiac surgeon and newly-named television show host Dr. Mehmet Oz; O the Oprah Magazine editor-at-large Gayle King; restaurant founder and Top Chef judge Tom Colicchio; and Luke Ravensthal, the 29-year-old mayor of Pittsburgh, Pennsylvania.
A number of highly deserving, and living people also were talked about Thursday night on the eighth floor of Manhattan's Time/Life Building. Here's a quick look at who made the conversation:
Nancy Pelosi, in relation to Obama's proposed healthcare bill (suggested by Walters); "patient zero," the first person who contracted the H1N1 virus (Dr. Oz); U.S. Federal Reserve chairman Ben Bernanke (Colocchio); recently-named associate justice of the U.S. Supreme Court Sonia Sotomayor (King); General David Patraeus and Chesley "Sully" Sulenberger, the US Airways pilot who successfully carried out an emergency landing of an airplane in New York's Hudson River in January (Giuliani). Giuliani, of course, also couldn't help but nominate longtime New York Yankees shortstop Derek Jeter.
OK, the Yanks won the World Series, but he hardly qualifies as the most significant global influencer of the year.
But between Twitter and the economy, which has the better shot at unseating president Barack Obama as Time's Person of the Year (he was named last December)? Both arguably are relevant and have had significant global influence this year.
But is there a clear winner? I don't think so. And how much stock does Time actually put into these annual debates?
But if not for the social implication, I for one enjoyed another of Barbara Walters' suggestions for the business aspect: despised Ponzie schemer-turned-jailbird Bernie Madoff. "If you want to sell some magazines, you name someone like Madoff," Walters said. "People would pick up those issues and say, 'How dare you?'"
Magazine Media and TV: Perfect Brand Extensions
Check out this related session at The Folio: Show, November 1-2 in NYC!
As TV programming expands dramatically, so does the need for great content and proven experts, so it's not surprising that…