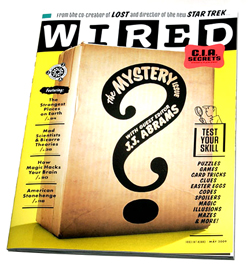 With the print magazine business model showing unprecedented weakness under the economic recession, top editors have been tasked with creating compelling, sometimes out-of-the-box content that will, in theory, not only keep their readers but keep them in print.
One magazine that has managed to do this pretty successfully is Wired. Editor-in-chief Chris Anderson has steered the Condé Nast tech title to several honors, including three National Magazine Awards (tying Backpacker, Esquire and the New Yorker for the most), for one measure of its editorial success.
However, as the New York Times points out, the magazine has suffered significant financial losses. Ad pages have plunged roughly 50 percent so far this year.  According to writer Stephanie Clifford, Anderson, during his eight years as top editor, hasn't managed to come up with an idea big enough to "reinvigorate Wired's business."
But what consumer magazine has? The advertising fallout has hammered all magazines, not just Wired. Through the first quarter, consumer ad pages were down 25.9 percent, according to Publishers Information Bureau figures. Only 15 titles managed to post ad page gains during the period.
Even fellow top Ellie winners Esquire (-25.2 percent) and the New Yorker (-35.7) saw ad pages plunge. (PIB stopped tracking Backpacker's ad pages after 2008).
In the Times story, Wired publisher Howard Mittman said the magazine hit "bottom" with the March issue, which featured only 38 ad pages. (Surprisingly, Mittman wasn't mentioned or quoted until the 22nd paragraph.) To his credit, Mittman said he's considering ideas such as tiered pricing models that offer subscribers different benefits.
Performance of 2009 'General Excellence' Ellie Winners
GROWTH
AD
PAGES Q109
CIRC
'08
READER'S
DIGEST
-8.1
-12.4
FIELD
& STREAM
-24.8
-0.5
WIRED
-57.2
-0.4
TEXAS
MONTHLY
-36.0
-0.5
FOREIGN
POLICY
N/A
N/A
PRINT
N/A
N/A

SOURCES: ABC, PIB
Developing a Video Strategy That Works for Your Brand
Check out this related session at The Folio: Show, November 1-2 in NYC!
Video content represents huge opportunities for digital audience growth and new revenue, with some publishers going as far as to…