Cameron Brown
president | King Fish Media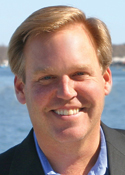 When king fish Media launched in 2001, the climate looked awfully similar to 2009. But for president Cam Brown's private custom media marketing solutions company, customer retention is and has always been vital. "Customers have the lowest cost of acquisition and you're going to already have a relationship with them. If you are smart, you'll use your own customers to help guide your marketing strategy," he says.
Despite the downturn at the end of 2008, King Fish announced nearly 20 new long-term business relationships with clients across print, online, video and events, with many businesses choosing to combine media strategies for the most effective audience reach. Some of these partnerships include custom media projects for TechWeb, Source Media, Ziff Davis Enterprise and The Economist.
The key to their success in a recession, says Brown, is a customer-first mission, combined with the media industry's new "golden egg," the subscriber base.
"In my opinion, publishers are going to have to use assets, as well as subscriber information. Retrain your sales people, and have them give the client a new group of subscribers—and give you access to them," he says. He suggests winning new accounts by referring clients to a resource that may be able to do the job better than your company. "This not only helps the credibility factor, but I think that media companies try to be too many things to too many people."
King Fish has seen its Compass Bank account flourish. "For four years, we have been constantly looking at their media mix and weighing it, trying to strike the best balance between communication and acquisition. When we looked at their print and online balance back in September, we made the recommendation to become more aggressive in their online property, with some of the direct mail partnering with targeted city business journals."
By moving double-digital percentages from its print to online property (while still maintaining a strong print presence), King Fish was able to prove that the mix was working through measurability. "Measurability is the differentiator. It's what people are looking at right now."

Where They Will Grow: Moving double-digit percentages from print to online.

Where They Will Save: By referring clients to companies that may be better equipped to handle certain requests.
 
Quote: "If you're smart, you'll use your own customers to help guide your marketing strategy. It's important to maximize these existing relationships."

MAIN PAGE
Todd Matherne CEO | Renaissance Publishing
Toyin Awesu publisher and editor-in-chief | AvenueReport.com
Deborah Esayian co-president | Emmis Interactive
Efrem "Skip" Zimbalist CEO | Active Interest Media
Justin Smith president | The Atlantic
Steven Kotok general manager | The Week
Len Burnett co-founder, co-CEO | Uptown
Risa Crandall VP | Scholastic Parents Media
Janet Libert editor and publisher | Executive Travel SkyGuide
Mike Domke founder and president | Milo Media
Jim Prevor CEO | Phoenix Media Network
Kent Brownridge general manager | OK!
Samir Arora CEO | Glam Media
John Sateja EVP | Consumer's Union
Jim Vick staff director/publisher | IEEE Spectrum
Pete May president | Greener World Media
Barb Newton president | Sunset Publishing
Paul Mackler | CEO | HMP Communications Holdings
Harry Sachinis | president | McGraw-Hill Business Information

01/30/2009