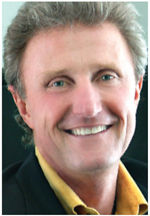 Rowland Publishing has defined a specific geographic region to serve the 16 counties of Northwest Florida, which is essentially the 850 area code.
When I acquired the company in 1990, it was strictly a proprietary consumer magazine and my first goal was to balance the income portfolio 50/50 with consumer magazine revenue and contract publishing so as to weather economic fluctuations in the regional and national markets. Over the next five to eight years, we launched similar city magazine consumer books—all direct mailed to controlled household income lists. Today we publish over 20 titles: proprietary niche products and contract work for resorts, destinations and association publications.
What is evolving today is a new paradigm—due to the economy, many firms have downsized and their graphic design departments have often been the first to go.  Due to the softening of consumer retail sales, we now provide creative services in the form of corporate brochures and collateral materials for both private and public entities.
This line of business has grown exponentially over the past six months. We have developed a new division named RPI Creative. This adjustment has allowed the company to retain all staff and offer our creative staff members opportunities to step out of their magazine design publishing box and expand their creative skill sets through the execution of creative development for our client base seeking these services. All of our established publication management systems still apply to all of the above changes in our business model.
We have basically three revenue classifications—advertising sales, publication design/management services and RPI Creative. I did some financial analysis recently and determined that for every $2 lost in ad revenue, the company can recoup it with $1 in contract or creative work. The reason being, there is virtually no cost of goods involved with this type of work.
We generally are not in the business of lead generation. We allow only advertisers to utilize our databases for follow-up direct mail at no additional cost.
As most publishers will fondly recall, it was raining advertising revenue three years ago. Today, that is a distant memory. Consumer revenue has slipped in several obvious categories—real estate, construction and automotive. Retail and restaurant ad dollars have dropped somewhat, but our sales team has been well trained to develop strong relationships with the mom and pop establishments. Some of them may have reduced their ad size, but for the most part they have continued to run in our titles as before. These relationships should never be taken for granted. National advertisers are way too unpredictable to depend on (at least in the geographic markets RPI does business in).