Boating Industry, Magazines Less Buoyant This Year
Like auto and finance, the boating category is taking on water.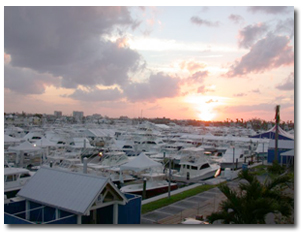 In this down economy, it isn't any big surprise that automotive and financial have been two of the hardest-hit markets. Out of the 12 advertising categories tracked by the Publishers Information Bureau, they saw the steepest declines through the first nine months, with ad pages falling 47.3 percent and 47 percent, respectively.
Another industry that's taken a beating this year is boating. I was reading the editor's note yesterday on boating trade publication Soundings Trade Only's Web site, written by Bill Sisson (he was my editor when I worked as a staff writer at Trade Only's consumer-side sister Soundings magazine a few years ago—he now oversees editorial for both titles). In it, Sisson looked back over the last 12 months, detailing the dramatic impact the down economy has had on the boating industry.

One takeaway I found, well, astounding:
The job loss estimates are staggering for an industry our size. By some accounts, as many as 200,000 jobs—perhaps 75 percent of the work force—have vanished since 2005, with the vast majority of those coming from manufacturing.
And, inevitably, as that industry declined, so has the consumer boating magazine market. Through the first three quarters, the seven titles tracked by PIB averaged a 38.1 percent loss in ad pages. (I didn't include Power Cruising since it folded in March). The industry average in ad page declines was 27.2 percent.

"When demand evaporated and wholesale credit became difficult to get, builders and dealers did their best to hold onto their cash," Sisson told me of the declines in the boating industry. "Companies went into survival mode, shutting or slowing production lines, furloughing workers, cutting costs wherever they could, including their advertising budgets."

Sounds a lot like what's happened in magazine publishing. While Soundings has felt the same declines as other boating magazines ("we've held up as well as most, and better than some"), Sisson said magazine publishers in his market will need to keep a careful watch over expense control, as well continue to diversify their product portfolios beyond the printed page.

"Boating titles will need to develop a broad strategy for maintaining their current audience, winning new readers and viewers, and offering advertisers and other partners a 360-degree program for reaching target audiences," he said.

Looking forward, Sisson hopes new products will help jumpstart demand in the boating industry. He said the industry is looking at the Fort Lauderdale International Boat Show next week as a barometer of sorts for how sales might fare in the coming months.

But are people actually budgeting for a new 40-footer this year? Maybe an Average Joe like me isn't, but a die-hard boater might be, right?

Ad Page Totals Through the Third Quarter:
| | | | |
| --- | --- | --- | --- |
| TITLE | Â 2009 | 2008 | % CHNG |
| Boating | 320.26 | 648.30 | -50.6 |
| Boating Life | 168.88 | 457.90 | -63.1 |
| Cruising World | 625.19 | 763.32 | -18.1 |
| Motorboating | 278.33 | 374.84 | -25.7 |
| Power & Motoryacht | 674.55 | 1,531.79 | -56.0 |
| Sailing World | 286.44 | 369.66 | -22.5 |
| Yachting | 968.25 | 1,403.62 | -31.0 |
Source: PIB



By Jason Fell --


Post Comment / Discuss This Blog - Info/Rules