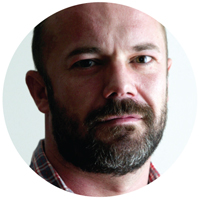 The interview with Andrew Sullivan begins with a few seconds of silence as the phone picks up, followed by a lively exchange in the background between Sullivan and fellow blogger and Atlantic writer Jeffery Goldberg.
It's that kind of fiery interaction The Atlantic was looking for when it decided to assemble a blogging dream team (one the Huffington Post referred to as the "New York Yankees" of bloggers) which includes Goldberg, Ta-Nehisi Coates and Sullivan, among others.
Sullivan, formerly editor of The New Republic and a blogger for Time, had flirted with the idea of blogging for The Atlantic for years but didn't have the time to juggle that and write longer pieces—until The Atlantic decided to make a dedicated online drive and give its staff the resources to juggle print and online.
"Blogging as a genre has emerged as the dominant form online for several reasons—it's informality, it's speed, the personal voice," Sullivan says. "It's better to just accept that and build the magazine's identity around that."
The 2008 presidential election was a boon for The Atlantic's bloggers. Sullivan posted 400 to 500 blogs per week (up from the usual 300). In September and October, TheAtlantic.com generated more than 8.8 million uniques and 68 million page views. In January 2009, the site posted 2.5 million uniques and 13 million page views, compared to just 522,066 uniques and 1.4 million page views in January 2007.
Sullivan and The Atlantic bloggers are also tasked with writing for the magazine and driving the conversation between print and online. Sullivan's cover piece on "Why Obama Matters" and subsequent blogging on the now president had a huge impact and "helped establish the blog as a clearing house for all things Obama," Sullivan says. "The blog is so sensitive to moods, you can almost feel it shift by the hour. To be at the nexus of that is an experience I've never had as a journalist before."
VITAL STATS: In January 2007, TheAtlantic.com generated 522,066 uniques and 1.4 million page views. In January 2009, the site boasted 2.5 million uniques and 68 million page views.