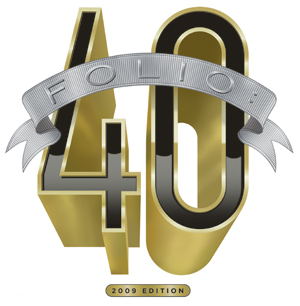 Welcome to the 2009 FOLIO: 40, the oldest, most comprehensive and most distinguished magazine industry compilation of its kind. We've spent the last year examining the industry, as well as a few markets that intersect it, for individuals who best represent an increasingly multifaceted media landscape.
Times are hard but this year's selections can inspire us all.

C-LEVEL VISIONARIES
Len Burnett | Co-CEO and Group Publisher | Uptown Media
Marc Lotenberg | CEO | 944 Media
Rieva Lesonsky | Founder | GrowBiz Media
Peter Sprague | CEO | Premier Guitar
Kathleen Kennedy | Chief Strategy Officer | Technology Review
Tim Regan-Porter | Vice President | Paste
Nick Palazzo | Co-Founder and CEO | Stack
Alain Lemarchand | CEO | Hachette
David Levin | Chief Executive | United Business Media
Steve Morris | EVP | Advanstar Life Sciences
DIRECTOR-LEVEL DOERS
Todd Tauber | Director, Corporate Development | The Economist Group
David Granger | Editor | Esquire
Richard Alleger | SVP of Retail Sales | Rodale
Frank Cutitta | General Manager | IDG Connect
Tricia Clarke-Stone | Director of Integrated Sales | Emmis Interactive
Andrew Sullivan | Blogger | The Atlantic
John Rockwell | VP, Marketing and e-Media | Access Intelligence
Amy Taschler Snyder | Director of Media Systems | Hanley Wood
Chris Dixon | Design Director | New York
Kim Miller | VP, Consumer Marketing | People Group
INDUSTRY INFLUENCERS
Barack Obama | President | United States of America
Flavorpill | Mark Mangan and Sascha Lewis | Co-Founders
Stephen Saunders | Founder | Light Reading
Jim Malkin | CEO | SourceMedia
Richard Rosenblatt | Co-Founder | Demand Media
Cynthia Typaldos | Founder and CEO | Kachingle
Newsstand Wholesalers and Distributors
Quadra Media | Chris Shannon | President • Don Hellinger | CEO
E-readers
Twitter
UNDER THE RADAR
Joe Rominiecki | Newsletter Editor | ASAE
Warwick Sabin | Publisher | Oxford American
Jenny Doh | Editor-in-Chief and Publishing Director | Stampington & Co.
Gerald "Butch" Boettcher | President | Kalmbach Publishing Co.
Jay Hook | Director of Online Strategy | Reni Publishing
Ana Marie Cox | Blogger
Marti Buscaglia | Publisher and CEO | Duluth~Superior Magazine
John Teresko | Editor Emeritus | IndustryWeek
William McGuirl | Director of Quality Assurance | Hearst Magazines
Casey Caplowe | Creative Director, Good

[EDITOR'S NOTE: These reports were compiled by FOLIO: staff editors Matt Kinsman, Dylan Stableford, Jason Fell, Vanessa Voltolina and freelancer Matt Schwartz.]
15 Fresh and Out-of-the-Box Sponsorship Ideas Guaranteed to Resonate With Buyers
Check out this related session at The Folio: Show, November 1-2 in NYC!
New ideas are the name of the game, the stronger the better. In this session we take you "beyond the…