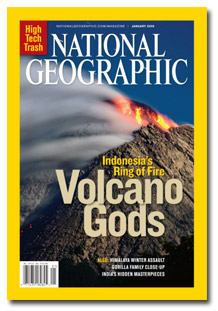 Clearly our recent article ("The Emptied Prairie") touched a nerve. The genesis for it came from my own personal experiences driving through North Dakota, seeing those deserted houses on a lovely landscape and wondering what tales they have to tell. I suspected those tales might be incredibly revealing about people's relationship with the land. That's why we did the story. It was never intended to be a profile piece of the state as a whole—we were looking at something very specific to the rural landscape.
What I hear and see are comments from people who live in a state that they love. While I understand their frustration with our article, it is not sensational. It is factual and it is sensitive to the plight of those who have had to leave and those who've been left behind. I'm proud of the story and stand behind it.
Photo courtesy of National Geographic.
[EDITOR'S NOTE: Below, Johns' letter to North Dakota Governor John Hoeven.]
Dear Governor Hoeven:

Thank you for your interest in "The Emptied Prairie" in this month's issue of National Geographic magazine. There seems to be some misunderstanding about our intent in writing the article.

Our article was never intended to be an in-depth look at the economy of North Dakota, nor were we attempting to offer a portrayal of the state in its entirety. We were looking at the rural North Dakota landscape and probing the stories behind some of the abandoned homes that still stand.

We are well aware that there is more to the state than these abandoned towns. In fact, we have written or mentioned North Dakota in 17 articles in the past 10 years, including a short feature on Fargo in November 2003.

In the case of our January '08 article, we wanted to tell personal and touching stories of North Dakotans' relationship with the land and how that landscape has shaped their destiny. The stories we told in the article speak to me of fortitude, and, yes, sometimes regret. I'm confident our readers will understand what these stories tell us about North Dakotans' strength of character and resolve – both of which will shape the future described in your letter.

Again, thank you for taking the time to write. We always welcome our readers' thoughts.

Sincerely,
Chris Johns
Editor
National Geographic magazine
Magazine Media and TV: Perfect Brand Extensions
Check out this related session at The Folio: Show, November 1-2 in NYC!
As TV programming expands dramatically, so does the need for great content and proven experts, so it's not surprising that…