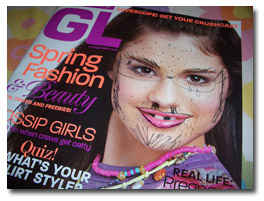 Not my 14-year-old, Jenni, who (with profound apologies to GL magazine) found a way to interact with that publication in a way that is … well, meaningful for a 14-year-old.
Magazines, and most print media, are more personal because you can hold them in your hands. From here interactivity can take on many forms: physical coupons, tear outs, inserts, pop ups, contest entry forms, and blow ins. There is a physical interactivity that comes from the act flipping pages. There is a lot of interactivity that comes from the more personal physical connection that only print can make … even for a 14-year-old!
More here …
Magazine Media and TV: Perfect Brand Extensions
Check out this related session at The Folio: Show, November 1-2 in NYC!
As TV programming expands dramatically, so does the need for great content and proven experts, so it's not surprising that…