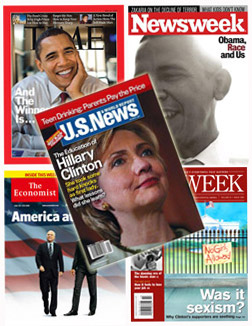 With its advertising in a precipitous decline, U.S. News & World Report today announced that it will shift to biweekly frequency in 2009—effectively ending its status as a "newsweekly"—and shifting its focus from news to its "Best of" franchises, health, business and education coverage and daily content on its Web site.
Ad pages fell some 37.5 percent during the first quarter, according to Publishers Information Bureau figures, twice as much as any other newsweekly. Advertising revenue tracked by PIB slid 34.8 percent during that period.
The magazine had recently cut its rate base from 2 million to 1.5 million, while rolling back its frequency from 46 issues per year to 36.
The company outlined the latest changes while announcing a redesign of the print magazine and the formation of the U.S. News Media Group. U.S. News executives were not immediately available for comment.
Tumultuous Time
U.S. News' dramatic shift comes at a tumultuous time for the category. Newsweeklies, perhaps more than any other magazine sector save for technology titles, have been under constant pressure in recent years to change, forcing the big two—Time and Newsweek—to retool their print designs, ratebases, print dates—anything, it would seem, to adapt to the digital age.
This includes, of course, the build-out of robust, well-trafficked Web sites. (Time.com, for instance, had 5.07 million unique visitors in April, an increase of 28 percent, according to Nielsen Online; U.S. News had 2.52 million uniques in April, a 72 percent increase over the same month in 2007.)
During a recent conference in New York, Time editor Richard Stengel noted that "someday there will be people who don't know there's a print product."
That day may be approaching faster than anticipated. During the first quarter, Time saw its ad pages fall 17.8 percent; Newsweek's dipped 13.8 percent. Even The Week, Dennis Publishing's well-regarded 10-year-old title, saw its ad pages fall more than 15 percent. Of the five newsweeklies, in fact, only the Economist increased its total ad pages (5.3 percent) during the first three months of the year.
By The Numbers
TITLE
AD
PAGES
%CHNG
AD
REVENUE
%CHNG
Time
370.97
-17.8
$97.57
-13.3
Newsweek
339.41
-13.9
$75.01
-23.0
U.S.
News
229.26
-37.5
$38.03
-34.8
The
Week
108.69
-15.6
$5.50
-7.4
Economist
596.99
5.3
$31.30
27
SOURCE: PIB, Q1, 2008; ad revenue in millions

TITLE
AVG
PAID CIRC
%CHNG
SINGLE
COPY SALES
%CHNG
Time
3,351,872
-17.6
107,277
-19.4
Newsweek
3,109,228
-0.3
92,576
-16.3
U.S.
News
2,038,037
0.1
33,757
-7.9
The
Week
480,084
8.1
1,131
2.5
Economist
720,882
12.8
68,337
10.1
SOURCE: ABC, Second Half, 2007
Pay-to-Play: How to Use Paid Ads on Social to Amplify Your Brand's Content
Check out this related session at The Folio: Show, November 1-2 in NYC!
Many social networks are turning to paid posts as their main source of revenue—none more so than Facebook, Instagram and…