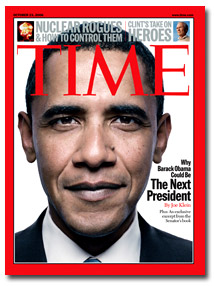 CHICAGO—During his keynote address during the 2008 FOLIO: Show here, Time magazine president and worldwide publisher Ed McCarrick said he's been fending off the "death of the news magazine" thing since the early seventies.
"Pundits heralding the death of news magazines since I was on my way in the door [in 1973]," he said. "They were wrong then, and they're wrong now."
But he also appears to be keenly aware of the importance of the Web.
Despite the magazine's Web site (relaunched again a couple weeks ago) accounting for just 11 percent of Time's revenue, it's growing—75 percent this year and projected growth of 35 percent in 2009—and McCarrick is quite bullish about it. "We're at 82 million page views," he said, responding—tellingly, perhaps, to a question about how large he expects the magazine's print circulation to grow. "We feel 200 million page views is easily within reach."
It does appear that all the death talk has seeped into McCarrick's sales pitch. He said that one of the reasons they launched Time for Kids was to capture readers at an early age. "We say 'from the cradle 'til when you're put in the ground.'"
More on McCarrick's keynote here …
Magazine Media and TV: Perfect Brand Extensions
Check out this related session at The Folio: Show, November 1-2 in NYC!
As TV programming expands dramatically, so does the need for great content and proven experts, so it's not surprising that…