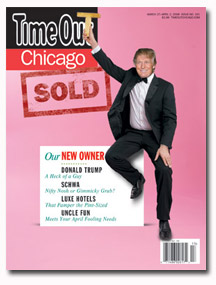 A fake press release distributed this week by Time Out Chicago—in which the magazine announced it had been acquired by Donald Trump—was picked up by Crain's Chicago Business.
In the release, dated March 25, Time Out Chicago stated that the real estate mogul had purchased a controlling interest in the magazine, and the magazine's logo would be modified to include a "signature glitzy T that adorns Trump's properties."
The "T" was included on the cover of the magazine's current March 27-April 2 issue. Crain's posted the story as fact on its Web site under the headline "Time Out Chicago gets Trumped." Time Out contacted Crain's, and the story was removed a few hours later. (Click here to see the cached version.)
Crain's ran a story the next day admitting it had been "punked."
Time Out issued a follow-up press release acknowledging the joke. "My first reaction was to laugh out loud, immediately followed by 'uh-oh,'" said TOC marketing director Tony Barnett. "We were really excited to get the joke out there. I thought the local media would get a good laugh, and didn't think anyone would take the piece and press release seriously."
It appears that Crain's even included the statement by Trump in the Time Out release which, presumably, should have given away the gag: "I am hugely excited about what is a truly huge opportunity for Trump Entertainment and an even huger opportunity for the people of Chicago."
Magazine Media and TV: Perfect Brand Extensions
Check out this related session at The Folio: Show, November 1-2 in NYC!
As TV programming expands dramatically, so does the need for great content and proven experts, so it's not surprising that…