Time.com
Eddie Winner:
Best Web Site, Consumer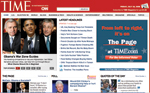 Redesigning a Web site, no less a major news magazine site, is no easy feat. According to Time.com managing editor Josh Tyrangiel, the site's newest redesign, which launched mid-September, was like "flossing with barbed wire."
"You're making hundreds of decisions a day, as a group, and it's crazy," he says about Time.com, which won FOLIO:'s Gold Eddie award for Best Consumer Web site this year. "In the end, though, we accomplished our goals and it was completely worth all the pain."
According to Tyrangiel, who also serves as assistant managing editor at Time magazine, the last time the site had been overhauled was in conjunction with the January 2007 redesign of the magazine. While traffic to the site "grew tremendously," in part, because of the new look, overall it was "sloppy" and "rushed," he says. "It helped establish us as a news site but was limiting in the sense that there wasn't a lot of flexibility with the template, it didn't integrate well with the redesign of the print magazine and, most of all for me, it wasn't fun."

Staffing Up, Building Out and Seeing the Results
Along with Time.com general manager John Cantarella, Tyrangiel says he hired key online staffers, including a director of product development and a director of design, and set out to completely overhaul the site this summer. Among his goals, Tyrangiel wanted the site to act as a bridge to the magazine brand and better reflect its design; to have a more flexible template; and, of course, "to look cool."
Among many new features, the new Time.com now has more diverse stories above the fold, rotated links to archived stories and multimedia relocated to the home page.
"With the new team, we accomplished the redesign in-house, in three months," says Tyrangiel. "We tested it, including laser tracking and eye scanning, so we know that we got the results we want and that users are going to the places we want them to go, quickly."

Traffic Doubles
According to Time president and worldwide publisher Ed McCarrick, Time.com was redesigned to be "a 24/7, 365 days per year news and information site." So far, it seems Tyrangiel and his team are delivering. During September, Time.com generated 115 million page views and 20 million unique visitors, Tyrangiel says. That's up roughly double from September 2007.
Moving forward, Tyrangiel says he doesn't want Time.com to compete with sites like Google News or New York Times, necessarily, but to be in what he calls the "circle of choice."
"I want people to know that we're competing daily and hourly and that we're doing great work," he says.

Judges Comments: "This site has a consistent color palette (wrapper, links, etc.) that keeps the user oriented and carries the print publication's branding through to the Web Site. ... The site gets extra points for mobile optimization, which is an increasing necessity for users on the move."
GOOD
Stationery Trends
The Nature Conservancy
Billboard
Travel + Leisure
ELDR
MonkeyDish.com
Oklahoma Today
BusinessWeek
Technology Review
Pace Communications

10/30/2008