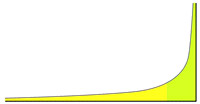 There's still a lot of Internet out there. And for publishers joining—or cobbling together— mini ad networks, that means revenue.
So says a new white paper released late last week by media investment banking firm DeSilva + Phillips. According to the report, Ad Networks: Monetizing the Long Tail, the approval of Google's $3.1 billion acquisition of DoubleClick shouldn't spell doom for smaller ad networks.
DeSilva + Phillips foresees a "long tail" of revenue, profit and scale for the smaller ad networks that remain. Or, as they put it: "Online advertising networks have emerged as an essential vehicle for monetizing the Long Tail of the Internet."
That's because small ad networks can aggregate traffic that was previously too difficult, costly or undesirable to aggregate, the report says. (According to the report, the top 100 publishers sell only 40 percent of their online inventory directly, leaving the rest to be chopped up and sold through ad networks or exchanges.) "In a world without ad networks, few online publishers would be able to sell their online advertising inventory."
The future, according to DeSilva + Phillips, lies in ad exchanges: "There is still a lot of ungathered and unsold inventory, and ad exchanges offer considerable scale to advertisers while remaining too small to attract Google or Yahoo!'s attention as bolt-on additions."
All of this means M&A opportunity for those operating small-to-mid-sized ad networks. During 2007, activity approached $2 billion for 10 "pure play" ad networks. Venture capital investment was $300 million.
[EDITOR'S NOTE: Click here for a free copy of DeSilva + Phillips' Ad Networks: Monetizing the Long Tail.]
Creating New Revenue with Content Marketing and Native Advertising
Check out this related session at The Folio: Show, November 1-2 in NYC!
If your business remains print centric, dependent on legacy formats like full-page print ads, then content marketing and native advertising…