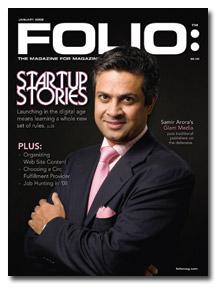 Launching new products in the magazine industry is no longer solely about print startups. Our community is still vibrant, if defiant, in the face of challenging print revenues, pursuing an entrepreneurial spirit by driving growth in other business sectors. Lately, this has meant expanding into the digital realm which has had a profound impact on business opportunities and strategies. Even print launches, now sometimes considered an oddity, are heavily influenced by how a Web site component will fit into the business plan.
Accordingly, for this issue's roundup of startup stories, we've couched six profiles in the context of launching in the digital age—an admittedly difficult task in a year that was probably better known for the closing of print titles while the Web brands lived on. One industry observer put it this way: "The years 2005 and 2006 were far more interesting for launches, both in print and online. In 2007 there were a lot of 'me-too' products online and very little new stuff in print."
Nevertheless, our profiles here span the last couple years, giving FOLIO:'s editors space to select the most interesting stories, ranging from Glam, a two-year-old content and advertising network on the Web that has wrested significant marketshare from traditional media in the women's fashion and lifestyle market, to Hanley Wood's all-or-nothing launch of Architect and its Web site counterpart. We examine a variety of experiences from new and old media alike.
STARTUP STORIES:
Glam Media
Architect
Craft
Internet Evolution
Scientific American
WTWH Media
Creating Killer Awards Programs and Recognition Events
Check out this related session at The Folio: Show, November 1-2 in NYC!
Awards programs and shows should be the most festive times you interact with your market. There are dozens of must-do…