Road & Track Experiments with Free Mobile Video
L.A. Autoshow provides opportunity to test network.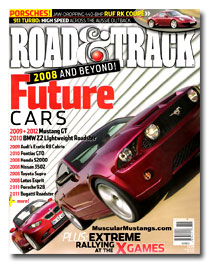 At its L.A. Auto Show last month, Road & Track experimented with a mobile device to unveil the latest cars.
Zannel, a free, real-time media network, offered six Road & Track contributing editors the ability to capture and post photos, video updates and live interviews from the show to give readers a first look at new cars. Thirty-plus postings, ranging from one- to two-sentence snip-its, to full-on video clips, were shared across both mobile and the Web during the show, said Matt DeLorenzo, the magazine's vice president and editor-in-chief.
"There wasn't a tremendous amount of traffic, since we are still in the beginning stages," he told FOLIO:. Zannel allowed DeLorenzo and his team "to do even shorter things right at the show and provide interactivity through comments." Providing continuous mobile coverage "gives us another way to serve the millions of people who are interested in what is happening in our industry," DeLorenzo said.
Similarly to how Hanley Wood's editors upload and manage video content through a third-party platform, Road&Track editors similarly post to Zannel, giving them the ability to constantly update the site, real-time message, respond and react to viewer comments. Another feature of Zannel is that it aggregates to Twitter, Web sites and blogs, as well as updates an account on major social networks like Facebook and MySpace. According to a company spokesperson, Found is currently Zannel's only other magazine client.

Road&Track said that they are still exploring Zannel as an option for future use. DeLorenzo admitted that the magazine has been playing catch up as far as the Web is concerned. "Using it is an opportunity to try something new at no cost." The magazine, he said, hopes to eventually "migrate and develop a social network of our own."

"It really dovetails nicely with the rest of our efforts," DeLorenzo added. "Digital has been a boon to us in that we've become more relevant again, on same footing with everyone else."

12/03/2008