Photoshop Disasters: Blender's Britney Cover
Recapitations.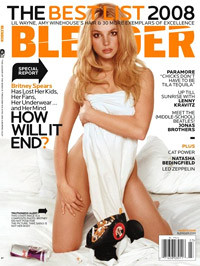 [EDITOR'S NOTE: Buy Jandos' new book!]
Photoshop Disasters writes with humor about digital flim-flam, including the current cover of Blender, which brings us the head of Britney Spears.
Still, you have to admire the tasteless audacity of the coverline: "Britney Spears Has Lost Her Kids, Her Fans, Her Underwear…and Her Mind HOW WILL IT END?"
In a puddle of Red Bull, clearly ...
RELATED LINKS

By Jandos Rothstein -- Folio: Contributor


Post Comment / Discuss This Blog - Info/Rules