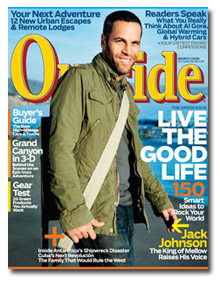 Outside magazine has announced that it is eliminating subscriptions cards from its magazine.
Beginning with the March issue, the magazine is cutting roughly 20 million annual sub cards in an effort to save trees and be more sustainable, a palpable concern among its rootsy readers.
It's a risky move, says Paul Rolnick, Outside's consumer marketing director. The insert cards represent a "significant source" of subscription revenue, Rolnick says. "There's a real risk of cutting off that source." The magazine has a ratebase of 675,000.
Still, he says, the money Outside will save in terms of producing the paper inserts—a "healthy five-figures"—will be redirected toward implementing and promoting a paperless renewal system. (Currently, Outside boasts a 35 percent online subscription renewal rate year over year.) According to the latest ABC Fas-Fax, subscriptions were up 12.6 percent.
Outside's Go, a nine-month-old spinoff, will continue to carry subscription cards, Rolnick says. "It's a new title—we just don't know yet."
Other magazines have tried to justify cutting subscriptions cards out of their magazines, but the numbers don't add up. "They're part of our business model," Wired's Brendan Koerner wrote in a blog post. "Blow-in cards are a cheap way to snag subscribers and boost numbers: It costs a glossy monthly about $10 to acquire a new reader through one of those cards. But using direct mail? $25—or more."
"We'd be happy to get your business through the Internet," Koerner added. "But for now, just 10 percent of new subs come via the Net. And 12 percent come from those damn blow-in cards. The worst part about 'em? They cover up some really good stories."
Native Advertising: Delivering for Partners While Retaining Your Brand Voice
Check out this related session at The Folio: Show, November 1-2 in NYC!
Editors have become a key part of the native-advertising conversation, as many successful media brands generate custom content for their…