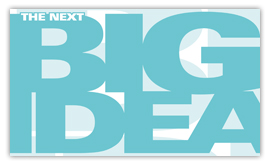 Faced with increasingly steep declines in their core print businesses and potential softness in two of their two main growth areas—online and live events (thanks to an economic downturn that doesn't seem to be sparing any one select category)—publishers are faced with yielding to the instinct to "duck and cover" for the duration of the downturn, hoping to peek out of their holes when conditions have improved, or use this as an opportunity to put their businesses on the right path.
The following six pages are dedicated to 10 leading publishing executives outlining their Big Idea—the strategic initiatives they are betting on to drive their businesses for the near future. We wanted to know what two or three big, strategic priorities these top executives are communicating to the enterprise—and how they're marshalling their resources to get the job done. We've also asked them to identify the strengths, weaknesses, opportunities and threats that surround those ideas.
In the profiles that follow, you'll find some of the same issues you face as well as some creative solutions.
THE NEXT BIG IDEA 
John Suhler
Founding Partner, Veronis Suhler Stevenson
Wenda Harris Millard
Co-CEO, Martha Stewart Living Omnimedia
Dennis McKenna
CEO, e.Republic
David Granger
Editor-in-Chief, Esquire
Michael Friedenberg
President and CEO, CXO Media
Evan Hansen
Editor-in-Chief, Wired.com
Jonathan Weber
Founder, Publisher and CEO, New West Publishing
Harry McCracken
Founder and Editor, Technologizer.com
Michael Silberman
General Manager, Digital Media, New York Media
David Pecker
CEO, American Media
Everything You Need to Know About Programmatic
Check out this related session at The Folio: Show, November 1-2 in NYC!
Programmatic has become a juggernaut, driving Google's and Facebook's revenues to levels higher than the entire magazine industry. For many…