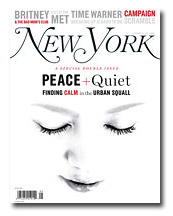 Print has a short behind-the-scenes look at New York's recent section reshuffling:
There's been some sadness around this office that New York decided to get rid of their High Priority feature, a half-page graphic that opened their listings section each week. Created by a different designer every issue, High Priority showed off the talents of designers new and established, with the only restriction being that the design be done in red, black, and white.* Chris Dixon, the magazine's design director, jokes that they "ran out of typographers" after three years, but adds on a more serious note that High Priority had a tendency to be "a little removed [from what the magazine was actually recommending] for the reader's good."
[…]
Dixon and his team also bumped the crossword puzzle a few pages and introduced a new back page infographic, Artifact, which the magazine's editors describes as "pure observation, a moment grabbed and preserved." Dixon adds that they "had been looking for the perfect end note to the magazine for a year or so," and that "this seemed to be the best way to finish off the experience of the issue."
More here …
[Editor's note: For more intelligent design talk, buy Jandos' new book.]
New Ecommerce and Paid Content Models
Check out this related session at The Folio: Show, November 1-2 in NYC!
Media companies responding to challenges in advertising are looking harder than ever at ecommerce, both selling products to readers and…