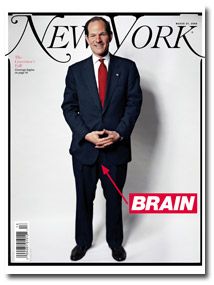 SAN FRANCISCO—New York magazine's stunning visual takedown of disgraced governor Eliot Spitzer won three awards given by American Society of Magazine Editors and announced here Monday at the American Magazine Conference.
The March 24 cover won cover of the year, best news cover and best coverline for its minimal, arrow-aided "Brain." The regional also won an award for best leisure interest cover for its photo illustration of Barack Obama and John McCain sharing in a beach-side "fist-bump."
Texas Monthly also won two awards, capturing best celebrity cover and personal service cover for its June issue, "Top 50 BBQ Joints in Texas."
New York's fashion spin-off, Look, and Vanity Fair shared the award for best fashion cover.
The New Yorker won the ASME award for best concept cover for its "Eustace Tillarobama" illustration.
Click here to view ASME's cover image gallery.
Event Video: Content Creation Tips
Check out this related session at The Folio: Show, November 1-2 in NYC!
From bumpers to opening videos to shareable content, learn step-by-step how to work with video production experts to deliver engaging…