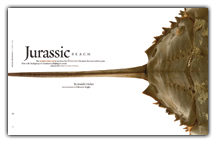 Ozzie Winner:
Best Feature Design, Association/Non-profit
The Nature Conservancy has come a long way since its debut as a digest-sized black and white newsletter in 1952. The print magazine now boasts a full-color quarterly publication with a circulation of 800,000. The magazine, which goes primarily to members of its environmental organization, highlights and features in-depth, global information on protecting ecologically important life, lands and waters.
Teresa Duran, the magazine's editorial director and director of marketing publications, says that winning the Gold for Best Feature Design, Association/Non-profit for the spring 2008, "Jurassic Beach" story goes hand in hand with the magazine's 2006 redesign initiative. "We wanted a timeless, classic design," Duran says. Unlike newsstand or b-to-b titles, which can use redesigns to bolster readership and add a "fresh" perspective to the publication, The Nature Conservancy doesn't "want to use the money of our primary readers [members] for a redesign every two years," says Duran. The staff hopes to maintain a fresh, classic look and feel in both its features and cover design.
Less Is More
Post-redesign, Duran says that the magazine has taken a three-pronged approach to its design concept: photo-driven layouts, a restrained and limited color palate [colors drawn from nature] and limited fonts. "For us, less is more," says Duran. The editorial director considers that before the magazine went through its redesign, it was too "over-designed."
"Jurassic Beach," written by Jennifer Uscher, gives an inside look at horseshoe crabs—living fossils that predate the dinosaurs by 100 million years—and the volunteer group working to preserve their place in the ecosystem. Duran was "just blown away on the experiential nature of the feature," she says. Most of the art in this award-winning feature, captured by photographer Christian Ziegler, were studio shots that the staff made prominent in layout, says Duran. The "designers came up with funky treatment," Duran says, including mirror scalloping and elements that draw attention to the photos.
Editorial Takeaways
With its fall 2007 issue, the magazine took a Bronze Folio: award for Best Redesign. But to get the most out of this recent redesign, The Nature Conservancy staff has worked to structure each story by its editorial takeaway. Each of its features, Duran says, works to balance editorial and design by aligning a feature's art and text with the ultimate takeaway. This helps readers focus on the feature's key points, while also allowing staffers to create a story's layout around the best editorial assets and overall strengths instead of a narrow focus on only images or text.
Duran notes that one of the publication's biggest challenges, even post-redesign, has been "knowing when to let go of things." Most recently, the staff attempted to use both studio shots and herd shots for a feature on bison, even though the herd shots were far superior. "The lesson we've learned is that our core business is conservation, not publishing. So going forward, we have to stick with our editorial takeaways."
GOOD
Stationery Trends
Billboard
Travel + Leisure
ELDR
MonkeyDish.com
Oklahoma Today
BusinessWeek
Technology Review
Time.com
Pace Communications