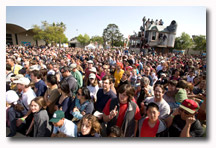 Much like many of its exhibits, Make magazine's Maker Faire appears to be exploding with popularity. The latest installment of this do-it-yourself-themed event, held earlier this month at California's San Mateo Fairgrounds, attracted 65,000 people—more than triple the attendance of its inaugural event in 2006.
Adding up sales components like ticket sales, subscriptions and sponsorships, Make pulled in "well over" $1 million in revenue, associate publisher Dan Woods tells FOLIO:. 
According to event director Sherry Huss, the rate at which the Maker Faire has grown has been a surprise. "Maker Faire has clearly struck a nerve in American culture. We're reaching seven-year-olds, 70 year-olds, and everyone in-between."
Make's Maker Faire, it seems, is a Mecca for tech enthusiasts who like to create and play with toys. Over the three years since it launched, the two-day event has featured quirky exhibits including a life-size electronic giraffe, a device that searches rooms to blow out lit candles and musical kitchen appliances.
Produced with Craft magazine, the next Maker Fair is scheduled for October 18 and 19 in Austin, Texas. Event producers say the event could expand into other markets across the country, and in Europe.
Creating and Retaining Your Sales "A Team"
Check out this related session at The Folio: Show, November 1-2 in NYC!
Sales management is more important than ever, and in some ways more difficult than ever. Sales is much more multifaceted,…