Magazine Industry Traitors!
Leaving print for digital smacks of 1999 all over again.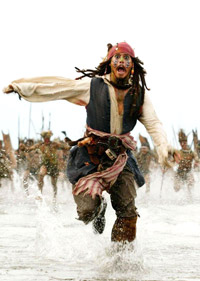 What ever happened to the idea that a good captain always goes down with his ship? Or in this case, his magazine? The doom and gloom surrounding the magazine/print business is scaring very talented publishing professionals away from the industry altogether. They are, in droves, flocking to anything that has the word "digital" attached to it—it's truly starting to feel like 1999's dot-com migration, at least some level, all over again.
What about standing and fighting? I wonder if that thought has occurred at all, or if these individuals have become so disenchanted with the print business that they have just thrown up their hands.
I've personally had many conversations with other publishers about this subject and there is a very clear line of distinction between those who grew up in the traditional world of publishing who have not been able to embrace change, innovate or see their brands as more than a circulation driven ad-page model, and those who actually see this supposed "dark period" as pure opportunity for experimentation, building beyond ad pages and circulation and concentrating on all of the exciting opportunities and platforms for magazine brands in areas outside of the busted newsstand sales, subscriptions and ad page business models.
In my 11 years of publishing, I find this to be the most exciting, vibrant and interesting time I've experienced and looking at this time period as an incredible breeding ground for experimentation and innovation. I only see good things ahead for magazines and, more importantly, publishing companies that are willing to face the fact that this ain't your mother's or father's publishing industry. So either get on board, or walk that plank!
[PHOTO: Disney]
RELATED LINKS

By Andy Cohn -- Boasting an esteemed career in the music magazine industry, Andy Cohn joined the FADER staff in 2003 as Associate Publisher. Soon after he was promoted to publisher of The FADER and thefader.com and has since led the publication towards noted acclaim through a series of firsts in the industry.


Post Comment / Discuss This Blog - Info/Rules