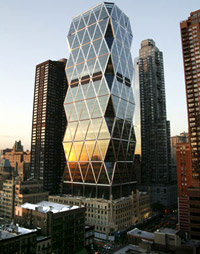 Architectural Record's contributing editor Robert Campbell—also a Pulitzer Prize-winning architectural critic for the Boston Globe—takes a sophisticated jab at the Hearst Tower, which opened in October 2006, in the magazine's January issue.
He writes that the building, designed by UK-based Foster + Partners, looks like a "misplaced missile silo", "a cage for a single massive object", maybe even "the carton the real tower came in." It's like a delinquent teen, he writes, that thumbs its nose at its older companion—the six-story Art Deco building from the 1920s that the new tower sits upon. The waterfall with the neighboring escalator that you see when you enter is "the kind of cliché you'd expect to find at a Hyatt convention hotel," he writes. "The three-story shell of the old Deco building surrounds you on all sides, but nothing is done to dramatize the experience of yourself as new wine in this old bottle."
(One thing Campbell doesn't mention, surprisingly, is the "greenness" of the building, the subject that seems to come up most in reference to the tower. The Hearst Tower is New York City's first building to get Gold LEED certification, the U.S. Green Building Council's highest.)
Creating New Revenue with Content Marketing and Native Advertising
Check out this related session at The Folio: Show, November 1-2 in NYC!
If your business remains print centric, dependent on legacy formats like full-page print ads, then content marketing and native advertising…