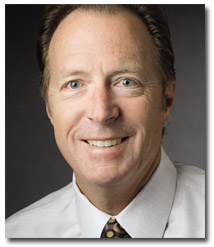 Publishing in Southern California is tough and always has been, Steve Churm says. Churm, the president of Churm Media, a city and regional publisher based in Orange County, remembers a FOLIO: report from 14 years ago. "In 1994 FOLIO: wrote, 'The streets of Los Angeles would run red with blood if its magazine casualties were made of flesh instead of pulp,'" Churm said at the recent Niche Publishing Conference in Austin, Texas. "It's more difficult today than it was 14 years ago to make a buck in the magazine industry in Southern California."
Churm should know. Two years ago, he was a $9.5 million company with seven magazines. Two years, two closed magazines and a topline that is $1 million less later, Churm is evaluating a strategy he embarked on to make his company brand centric and not just print centric.
Churm, whose company publishes OC Metro, Southland Golf, OC Family and others, was the keynote speaker at the Niche Conference, a relatively new event geared to very small magazines. The event is run by Carl Landau, a publishing entrepreneur known, among other things, for a series of sales-training seminars called Camp Niche Jamboree. This year's Niche Conference attracted 120 attendees and 17 sponsors.
In Steve Churm, who launched his company in 1990, the conference had an engaging, candid keynote. "We embraced the idea that print and online work better together," he said. "Our own print-centric thinking had gotten in our way." He embraced that concept even though larger city and regional magazines, perhaps paradoxically, average less than 2 percent of their revenue from online sources, according to FOLIO:'s City and Regional Publishing Survey. To make it work, Churm said, he invested $350,000 to rebuild his Web sites—including an all-new content-management system—and all funded out of cashflow.
The result? "We have not seen the payoff," he said. "Not yet, anyway. We are entrepreneurs, and yes, we are going to fail. But you have to try."
A more promising initiative is the creation of Ripe Orange, an in-house ad agency designed to serve the company's stable of 2,000 advertisers—many of whom are small and don't have access to sophisticated creative services, Churm said. In 15 business days, Ripe Orange has booked $40,000 in business, Churm said.
Churm offered eight lessons learned in the process of repositioning his company:
1. Standalone repurposed content isn't compelling to anyone. Write and present content for the medium it is intended.
2. Take advantage of being online. There are clever ways to alert readers of other resources.
3. Provoke readers, but don't annoy them online.
4. Quality content rules. Provide value and people will come back.
5. Every person working on your Web sites should get used to being overworked indefinitely.
6. Document, document, document. Programmers and producers are not going to stay with you for long. When they leave, if you haven't documented, you have a problem.
7. Useful is better than cool. Be respectful of readers' time limitations.
8. Fear of failure—you can't be afraid of making a mistake. "Lee Iacocca said in his book that his regret was that he didn't fail earlier and more often in his career," Churm said. "You've got to put yourself out there."
New Ecommerce and Paid Content Models
Check out this related session at The Folio: Show, November 1-2 in NYC!
Media companies responding to challenges in advertising are looking harder than ever at ecommerce, both selling products to readers and…