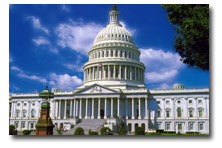 With the presidential election just four months away, the political climate on Capitol Hill is heating up—and the magazine industry is feeling it.
Last week, the Free Flow Legislation Act, also known as shield law, was voted down by the Senate 51-43—just nine votes shy of passing the legislation, which would provide federal protection for reporters' confidential sources.
Magazine industry advocacy groups like American Business Media and the Magazine Publishers of America say they will continue to push for approval. "No one is giving up on getting this done," says Jim Cregan, MPA executive vice president of government affairs. If passed, the legislation
"Last week was the final week of the July session before the traditional August recess," explains Tom Carpenter, vice president of Wexler & Walker Public Policy Associates, ABM's lobbyists in Washington. Consequently, he says, Republicans were focusing their attention on legislation that would expand domestic oil drilling offshore, arguing that gas prices "were the most important issues facing the nation and should be worked on before anything else in the Senate."
The Democrats "played hardball," Carpenter says, by bringing up a series of bills to "try and embarrass Republicans" and force them to vote against proceeding on them. The Republicans, however, voted down every motion, one of which was on the Free Flow bill.
"The bottom line is that the legislation never got a substantiative vote," MPA's Cregan says.
Other top issues facing the lobbyist groups—such as net neutrality, behavioral advertising and IP legislation—have had hearings and received draft legislation, but still await action by Congress in 2009.
The MPA and ABM hope to pick up their efforts with the Free Flow act again when the Senate reconvenes in September. "Unless the drilling legislation goes first, it is likely that Republicans will continue to hammer away on the issue and prevent future votes," says Carpenter. "That said, political pressure is causing a lot of Democrats to cave on their position on the drilling legislation, and it's likely that some form of that legislation will pass before any other meaningful legislation in September. If that happens, or if Republicans lessen their tactics, the shield law could be brought to the floor and would likely get more than the needed 60 votes to proceed."
"It will be an uphill battle," Cregan says. "The good news, though, is that [presumptive presidential nominees] John McCain and Barack Obama have endorsed the legislation. Maybe it will get pushed back until January but hopefully by then it will draw more support."
Beyond Posts and Tweets: New Social Media Strategies (and Networks) That Engage Audiences Now
Check out this related session at The Folio: Show, November 1-2 in NYC!
Social media is accepted as a critical point of engagement for your brand. But the approaches and tactics have changed…