FOLIO: Publishing Summit
Wed, 02/20/08 thru Fri, 02/22/08

Where: The Doral Golf Resort & Spa, Miami, Florida

Type: Conference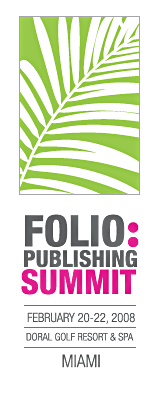 A completely redesigned FOLIO: Publishing Summit for 2008. Focused. In-depth. Powerful.
Join the best in magazine publishing for this unique gathering. Come away with critical insights and tools to grow your audience, your brands and your business.
The FOLIO: Publishing Summit is created for senior executives in magazine publishing and media. Our intensive program is designed to foster best practices, collaboration, and networking, including:
* Eight core Working Groups on critical issues, each spearheaded by a chairperson or co-chair team.
* Special programs, including Wednesday's golf tournament at the world renowned Blue Monster Golf Course, the first-ever 5K World Media Run and our popular Dinner With a Stranger networking event.
COMMENTS: