Fast Company Hires Ex-Fortune, Portfolio Staffers
Annual battle over business magazine talent begins early.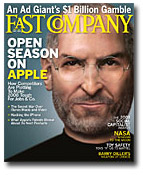 It's only January 3, but the battle between consumer business magazines over talent is already heating up. 2008's first shot across the bow: Mansueto Ventures' Fast Company, which today announced the poaching of a pair of former Fortune and Portfolio staffers.
Jane Meier, part of Condé Nast's Portfolio launch team, becomes Fast Company's deputy art director. Mark Borden, a reporter at Fortune from 1998-2002 and a noted freelancer, was named senior editor.
Anya Kamenetz, Pultizer Prize-nominated author of the book Generation Debt, was named staff writer, effective January 14.
All three will report to Fast Company editor and managing director Robert Safian.
According to the Publishers Information Bureau, Fast Company's ad pages through November were up 19 percent, while Forbes (-4.1 percent), Fortune (-18.6 percent) and BusinessWeek (-16.5 percent) were down. Newsstand sales for Fast Company were up 39 percent during the first half of 2007, according to the company. 

01/03/2008
RELATED LINKS