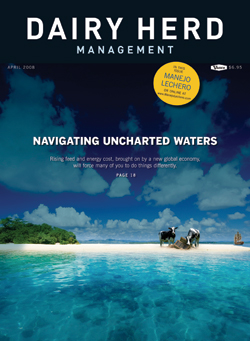 Issue: April 2008
Frequency: Monthly
Launched: Fall 1965
Circ: 62,500
Editor: Tom Quaife
Publishing Company: Vance Publishing
Art Director: Rhana Castle
"Uncharted waters" was the concept that inspired the cover story for Dairy Herd Management's April issue, and it came to editor Tom Quaife during a session at a dairy nutritionists conference. The topic of conversation was the rising cost of cattle feed and its impact on dairy producers, who make up a large portion of Dairy Herd Management's readership. "Things are getting difficult for producers," Quaife says. "Someone at the meeting said, 'We're in uncharted waters.' I thought, 'Well that's a comment I could certainly turn into a graphic.'"
Quaife brought the concept to the magazine's monthly art meeting and the team—he, three associate editors and art director Rhana Castle—came up with the image of a ship out on the water with a dark sky and foreboding atmosphere. That image ended up working for the feature inside, but Castle went with a different approach for the cover, to get more of what she calls a "lost mood."
Castle says she almost always uses cows as the subject on the title's covers "as an icon of the producer" and "to personalize it more to dairy." She chose to set the cows on an island to create the "questionable feel as to where we would be landing" and emphasized this through perspective, by making the cows appear far away. In terms of color and lighting, she aimed for dramatic and striking to enhance the mood and create a strong undercurrent.
The image itself is an amalgamation of four different stock images. Castle morphed the two cows, the box, the island and the boat in the distance in Photoshop. She positioned the cows to look like they were scrounging in the box for food and added the ship in the background to tie in with the art from the feature . "When storyboarding a book, having it flow from back to back is important. I like to keep consistency throughout."

DESIGNERS' COMMENTS
"The logo and mast treatment is simple, clean and no-frill, and I like it for this publication. [But] I feel that they need to better reinforce their publication's business-oriented mission with the imagery they choose for the cover. Even though this cover is very appealing and fun, it would be better suited for another publication like maybe Dairy Herd + Leisure. When doing conceptual covers, the concept needs to be strong and highly relevant to the publication and subject matter. This can sometimes be hard to do when trying to match a concept to stock imagery."
Michael Kline | Design Director | AOPA Pilot and AOPA Flight Training

"The photo compositing work is stellar, and I like the quirky sensibility of the image. That said, I'm not quite sure I 'get' the concept. The solitary cover line insists readers will be forced by a changing economy to 'do things differently.' Bovine pirates digging for treasure seems more desperate than different. The type is professional, yet too minimal. A touch of personality in the type treatment could have helped. The simplicity and center axis almost makes the page look more like a book cover."
Jamie Leary | Art Director | Decibel Magazine
"I would have liked for the type to be a little bigger and more asymmetrical. That would bring a little more continuity and possibly make it more aesthetically pleasing. Changing the type layout could also bring the picture out. That is important because the picture is interesting and very relevant."
Will Spear | Senior Designer | Vegas Style Entertainment

What do you think? Take the Face Up survey and get the chance to win an iPod Shuffle!
Magazine Media and TV: Perfect Brand Extensions
Check out this related session at The Folio: Show, November 1-2 in NYC!
As TV programming expands dramatically, so does the need for great content and proven experts, so it's not surprising that…