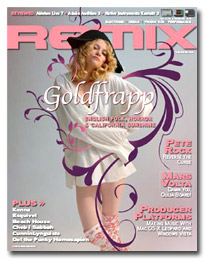 On Friday, FOLIO: reported that Penton had decided to significantly scale back the print version of Remix from a monthly to a quarterly, positioning it as a "Web-first" brand.
Here's how publisher Joanne Zola described the shift in an e-mail to advertisers:
Dear Advertiser,

In January, Remix will shift 100% to a "Web first" property.

Remix will continue to serve the growing market of emerging music producers, engineers and artists, and the facilities and services that feed them. But we will now focus our content where this market consumes media: online and at our regional events. As a media company, our top priority is to deliver information to our readers in the most effective possible format.

In 1999, I helped launch Remix magazine to complete the EM and Mix portfolio. Our advertisers were looking for a way to reach the next generation of music producers, engineers and artists. The response was strong from both the manufacturer community and the readers. A brand was born. Today, Remix remains the only property in the industry addressing technology and music for that 20- to 35-year-old professional.

During the past eight years, growth of the Remix audience has been tied directly to the growth of the Internet. 50% of all Internet users are between the ages of 15 and 34 (500 million users overall), meaning one in two users on the Web is 100% in the Remix target demographic. In parallel, the Remix Website has been one of the top five fastest-growing Penton Websites six years running (Penton has over 160 sites), increasing traffic more than 25% year-over-year.

Our events business has also been on the growth fast track, with Remix Hotel attendance climbing 20% each year. Major technology companies like Apple, Microsoft, Intel, Avid and Sony have sponsored Remix Hotel events to reach the emerging artist pool and interact with them one-on-one. The live interviews, panels, product demonstrations and master classes at each Remix Hotel make these must-attend events for our audience.

With Remix's evolution to a "Web first" brand, we will not only refocus our content to the Internet but also restructure the Emeryville editorial department to include a dedicated Web content team. Editorial emphasis will shift to an information exchange centered around a new online product database and expanded rich media content. This team will produce content specifically for the Web, leading the way with technology-focused editorial, video content, artist interviews, tutorials and product reviews. In addition, Remix will have the support of the full Penton new media team (70-plus employees) and a dedicated Web developer in the Emeryville office.

The print edition of Remix will live on in quarterly issues coinciding with Remix Hotels. Each issue will feature new technology, application pieces and artist interviews—as well as exclusive interviews with Remix Hotel special guests.

Remix is poised to be the premier source of news and information for the pro-audio and MI markets. We believe that the energized brand will offer the most complete marketing offerings to reach our readers—your customers—in print, online and events. But you are not alone in this new environment: Our sales and editorial teams are available to discuss your needs and help design a dynamic plan that suits your products and expands your customer base.

We thank you for your support these many years, and we look forward to working with you in 2009 and beyond.

Sincerely,

Joanne Zola

Group Publisher, Mix, EM, Remix
________________________________________
Everything You Need to Know About Programmatic
Check out this related session at The Folio: Show, November 1-2 in NYC!
Programmatic has become a juggernaut, driving Google's and Facebook's revenues to levels higher than the entire magazine industry. For many…