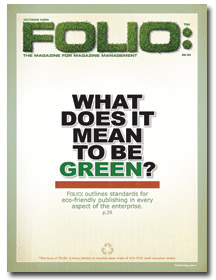 The push to make magazine events more eco-friendly is on the rise. From events that accompany a green issue to standalone conferences, publishers are looking for ways to increase recycling, use local and organic materials and reduce waste.
That's just the tip of the (melting) iceberg. There's a lot to consider when organizing a green event—especially one that's green front- and back-of-house. Publishers sometimes need to be creative in the ways they institute green measures. According to Danielle Venokur, founder of New York City-based eco-friendly event agency dvgreen, the pricing for green events tends to be 15 to 20 percent higher overall than for "regular" events.
"Make sure all your vendors—the caterer, the designer—are on board with your mission," Venokur said in a recent interview with FOLIO:. "Planning an event is always a headache but planning a green event is like a migraine."
Meredith's Better Homes & Gardens' 15-city road tour, the Living Green Tour and Exhibit, featured a traveling 2,500-square-foot "living green" home, promoting energy efficiency and everyday environmental practices. The seven-month event was expected to wrap up in New York City at the end of October.
"Obviously it depends on the event," says Greta Palmer, managing director of LeadDog Marketing Group's GreenDog event planning group, which produced the tour. "But producing a green show right now is definitely more expensive than a traditional show—maybe 20 percent more for building materials and 10 percent more for training staffs." One of the major obstacles Palmer and her team faced in weighing their eco-friendly options was finding building materials that were either made from recycled products or were easily reusable.
"Producing an eco-friendly road show, we had to be practical in terms of things we used so that they were easily portable and didn't weigh a lot, wasting fuel," Palmer says. "We developed criteria and went from there. It was all time consuming, but worth it."
Trucks used to transport show materials between venues traveled the shortest routes possible, Palmer says, to reduce wasted time and fuel. Taking it an extra step, the trucks operated on biodiesel, which was "a bit more expensive." One way they saved money was in signage. Instead of traditional printed signs, they show featured sponsor signs and directional information into decorative items like curtains and pillows, saving BHG about 60 percent on traditional signage expenses, she says.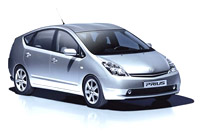 Hybrid Cars, Biodegradable Utensils
While producing a event that's green from top to bottom can be difficult—and expensive—a number of magazines are attempting to do it. In conjunction with its green issue last year, Condé Nast's Domino hosted the Green Party—an event that featured a green market where guests could shop for eco-friendly paper towels and washing detergent, rented or repurposed decorative items, and invitations printed on recycled paper. Party staff wore eco-friendly clothing and attendees were transported to and from the party in a Toyota Prius hybrid car.
One event that might not necessarily seem green on the surface—through the steam and smoke and sparks—is Make's annual Maker Faire, a do-it-yourself-themed event launched three years ago for gadgets and machine enthusiasts.
In its three years, the Maker Faire has featured quirky exhibits including a life-size electronic giraffe, a device that searches rooms to blow out lit candles and musical kitchen appliances. "A core value of Maker Faire is creative reuse," says show director Sherry Huss. "We try to be as green as possible in all areas of our event from advance planning, to onsite to leaving the venue."
Maker Faire partners with several local groups in each of the locations it's hosted that provide green products and services like recycling, solar power, biodegradable utensils, and staff and attendee education. Huss and her team also work with Goodwill to provide reused furniture provide their staff with bicycles for transportation.
"With each new event that we produce, we are finding that it is getting easier," Huss says. "With 65,000 people attending an event over the weekend, we do want to make sure that we are reducing waste as much as possible."
GreenDog's Palmer also recommends working with local "experts" to help make the initiatives effective and gives the overall event authenticity and credibility with consumers and readers. "Changing the way you've always done things is the hardest part," she says. "In the long road, though, you can save money by reducing some of resources you've been using and putting that onus on the vendors, too. With all the excitement about going green, I think it will soon become a lot easier for people on the production side as we're all getting more comfortable with it."
SIDEBARS:
What to Ask When Selecting a Green Venue
• Ask about the facility's environmental policy.
• Request to see the facility's monthly statistics on the percentage of waste diversion by types of material.
• Find out what facility management recommends as measurable and achievable goals for the event.
• Have staff been educated and trained about green practices?
• Ask what initiatives are in place there to minimize the environmental impact of food and beverage services.
• Are there procedures in place to conserve water?
• Find out if there are green power options for powering the event.
• Ask about the food/catering service. Can they provide local/organic products?
• What is the venue's policy about recycling?
• Ask if the facility has won any awards for its eco-friendly programs.
Tips for Avoiding Waste
• Offer exhibitors paperless alternatives for distributing promotional materials.
• Encourage exhibitors to separate aluminum, glass and paper trash—not to commingle it. Event producers should put designated bins in booths and/or on the show floor throughout the event.
• Urge exhibitors to reuse packing materials. If materials can't be reused, make sure to offer recycling options.

Green Publishing Standards: Recycle all bottles, cans and paper on-site; at least 30 percent of all food should be local; necessarily printed materials should be printed on recycled paper.

What You Can Do to Be Green: Source vendors and partners that share your green philosophy. Promote and provide alternative transportation. Train staff and educate attendees.
Resources: bluegreenmeetings.org; ecospeakers.com; auduboninternational.org/programs/Greenleaf; greenmeetings.info; iaee.com/information_resources/greeninitiatives; greenbiz.com

SEE ALSO:
MAIN PAGE
PRODUCTION | The Paper Problem
OPERATIONS | The Importance of Stewardship in Sustainability
EDITORIAL | Does the World Really Need Another 'Green Issue'?
DISTRIBUTION | Efficiency–And Sustainability–At the Newsstand
MARKETING | A Paperless Future?
DIGITAL | Using Digital Editions to Go Green