Edward Adams
Editor and Publisher, ABA Journal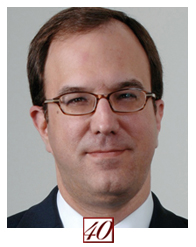 A veteran of for-profit publishing at ALM, Edward Adams joined ABA Journal in September 2006. He saw an immediate need for an updated digital strategy. "We were in the Stone Age," says Adams. "At the time, we were putting up articles from the magazine on a haphazard basis. We wanted to find a niche that wasn't being served and we wanted to use our readers because they are as much or more experts than we are. Our focus was to aggregate content and build community."

Adams started with three things: putting the full text of the magazine up the day it drops in the mail and creating an archive dating back to 2004. Second was to create an online legal newswire team. "The way you do that with a small staff is aggregation," says Adams. "We have a team of two reporters who do nothing but troll the Web from five in the morning to seven at night. They're posting between 25 and 50 short stories per day."

Third, ABA Journal wanted to create community. "Even with our staff, we cannot cover the full width and breadth of the law," says Adams. "There are thousands of lawyers with their own blogs." ABA Journal created a directory of more than 1,700 blogs categorized by dozens of subject areas, dozens of states, and authors.

Adams did this with a staff of five full-time online editors and developed the site for about $20,000. "You can do so many things online, you have to focus yourself on 'here's what we're going to do, here's how it fits in the marketplace,'" says Adams.

Traffic is up more than 500 percent and the site is registering over 1 million page views. Revenue-wise, the site is equivalent to producing a 13th issue of the magazine, Adams says. "We'll probably double that this year," he adds. "Any media organization needs a strong, credible Web site. Much of the conversation has moved online and if you're not online, you're not part of the conversation."

VITAL STATS: With an investment of $20,000, ABA Journal's Web site has seen traffic grow 500 percent and draws more than one million page views.

04/03/2008
RELATED LINKS